Corby with brains
Samsung I5500 Galaxy 5 review: Corby with brains

Camera is an unimpressive 2MP snapper
Imaging is not the primary feature of the Samsung I5500 Galaxy 5. The phone has a fixed-focus 2MP camera with maximum resolution of 1600x1200 pixels. It doesn't skimp on fun features though.
The user interface is standard Samsung for the most part – and that's not a bad thing. It's easily thumbable and offers readily accessible shooting modes and settings.
The Galaxy 5 lacks a dedicated shutter key but the D-pad takes care of that. To activate face detection, you should switch to Smile shot mode – tapping the virtual shutter key will snap a photo even if your subject doesn't want to smile.
You can also enable geotagging in the settings, as well as gridlines and a couple of color effects. Panorama mode is available too.
Image quality is unimpressive, even for 2MP snappers. The much too aggressive noise reduction doesn't leave even a hint of foliage or any other fine detail. It gives photos a distinct oil painting look. Other than that, contrast and color rendering are good but they can't make up for the rest.






Samsung I5500 Galaxy 5 camera samples
Video recording
The Samsung I5500 Galaxy 5 can record videos in QVGA resolution at 15fps, same as the I5800 Galaxy 3. It's OK for MMS, but not much else. We've seen 2MP cameras do VGA@30fps, so we're unimpressed with the Galaxy 5 camera in general.
Here's a Samsung I5500 Galaxy 5, QVGA@15fps video sample.
Good connectivity
The Samsung I5500 Galaxy 5 has uncompromised connectivity – it has quad-band GSM/GPRS/EDGE and dual-band 3G with up to 7.2Mbps downlink speeds thanks to HSDPA. A GPS receiver is on board as well.
Locally, you've got Wi-Fi b/g with DLNA, Bluetooth 2.1 and microUSB 2.0. There's a 3.5mm audio jack, so you can use your favorite set of headphones without adaptors.
The inbuilt memory is about 160MB. Android 2.1 Eclair doesn't let you install apps on the memory card so installing big apps can be a problem. At least the I5500 Galaxy 5 comes with 1GB microSD card, which will let you snap plenty of photos.
Great browser is limited by the screen
Behind the basic UI of the Android Browser hides one very capable app – it's fast and accurate and rich in features.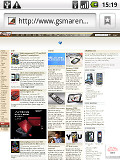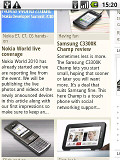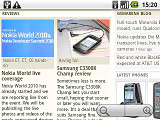 Browsing GSMArena.com on the Galaxy 5
The minimalist UI is quite powerful – hit the menu key and six keys pop up. You can open a new tab, switch tabs, refresh the page, go forward, and open bookmarks. The final button reveals even more options (text copying, find on page, etc.).
As in the Gallery, there's no multitouch (so, no pinch zooming) – double tapping and virtual zoom controls would have to do instead. The browser supports text reflow – a moment after setting the zoom level, columns of text adjust to fit the screen width.
The bookmark list shows a thumbnail of the bookmarked page and you also get a "most visited" list in addition to the history.
The 2.8" screen is at the low end of comfortable browsing and the QVGA resolution doesn't help either. Text reflow does its best to fit as much text as possible on the screen, but site navigation and other features often end up off the side of the screen and you need to pan to get to them.
At low zoom levels, text isn't very sharp but it's readable. At least the low resolution makes the browser fly on the 600MHz CPU.
The Samsung I5500 Galaxy 5 relies on the YouTube app to partially compensate for the lack of Flash support. Of course, there are plenty of other video sharing sites and sites that use Flash for completely different purposes, but alas those are out of the Galaxy 5's reach for now.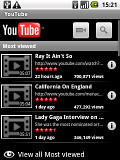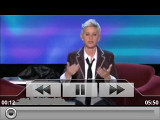 A YouTube app partly makes up for the missing Flash support
Organizer
The Samsung I5500 Galaxy 5 lacks a document viewer – you'll have to get one at the Market if you need one. You could also try out Google Docs and see if it's an acceptable alternative.
The calendar has four different types of view: agenda, daily, weekly and monthly. Adding a new event is quick and easy, and you can also set an alarm to act as a reminder.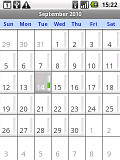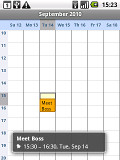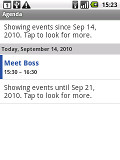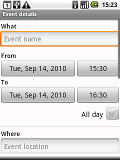 The organizer centerpiece - the calendar
The agenda view shows a list of all the calendar entries from the recent past to the near future. It's a very handy tool when you need to check your appointments for the next few days.
The Samsung I5500 Galaxy 5 features a decent alarm clock application which allows a huge number of alarms to be set, each with its own start time and repeat pattern.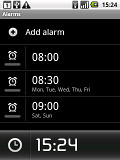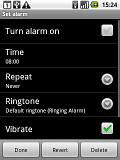 The Clock app has the alarm options
There is also a calculator aboard. It is nicely touch optimized – the buttons are big enough and easy to hit.
Samsung have included the My Files app – a simple to use but functional file manager, which can also be used as an image gallery (though not as cool as the Android one). It can move, copy, lock and rename files in bulk, even send multiple files over Bluetooth. It will only browse the memory card (it can't access the inbuilt memory).
Finally comes the YouTube app which, as we said, partially compensates for the web browser's lack of Flash support. Its interface is simple enough to let you find whatever you're looking for as quickly as possible.