Samsung announced two new exciting additions to its mobile phone portfolio. Although they look very different, both are bound to earn themselves quite a lot of fans. One with the lure of Armani looks, the other with the functionality of a GPS-enabled smartphone.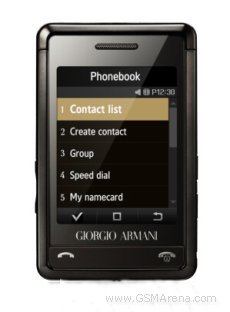 It's been quite a while since news first broke of the collaboration between Samsung and Giorgio Armani in the development of a new mobile phone. It hardly comes as a surprise then to announce that the project has been completed. The phone was officially unveiled at a press briefing in Milan before Armani's Spring Summer 2008 Women's fashion show. Apparently the P520 working title has been dropped and now the phone is named Giorgio Armani-Samsung Mobile. Besides the looks, courtesy of one of the world's leading fashion and lifestyle design companies, the new device has got a whole bunch of features to be excited about too. The display stands at the splendid 2.6 inches and features 262K colors, QVGA resolution and touchscreen. Haptic feedback is enabled, light vibrations marking every touch of the icons on the display. The camera on the Giorgio Armani-Samsung Mobile will shoot in a 3 megapixel resolution, which is more than respectable pixel count for a fashion handset. Other features of the tri-band GPRS/EDGE enabled phone include Bluetooth 2.0 with A2DP (which has become standard for the Samsung mobiles), USB 2.0 high-speed and microSD card slot for memory expansion. All of these niceties will be packed in a surprisingly small body at 87.5 x 54.5 x 10.5 mm, weighting the modest 85 grams.
Samsung's official announcement states that the retail package will include a specially designed Giorgio Armani leather carrying case. The new phone will be available at Armani flagship stores and selected mobile phone retailers in major European countries from November 2007. However, there is no word on pricing at this stage.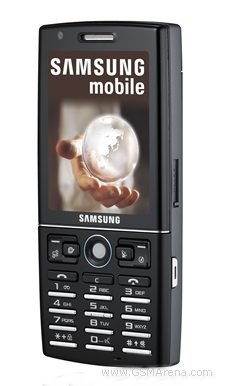 The other device to see its official release is the Samsung i550 - a Symbian smartphone with a built-in GPS receiver. As we already wrote a little while ago, the phone will be a high-end 3G-enabled device sporting most features you can think of. HSDPA and EDGE handle data transfer on the tri-band device, with Bluetooth (you guessed right - 2.0 with A2DP support) and USB 2.0. The phone will have a 2.6" 262K-color display with QVGA resolution. There is also a 3.2 megapixel camera with autofocus and flash and an FM radio to enhance the multimedia image of the device. The OS, as expected, is Symbian 9.2 using the S60 v3.1 user interface. Finally a word on the memory capacity - Samsung i550 features 150MB of internal memory and a microSD card slot, should further expansion be necessary.
Samsung i550 will be released in November 2007 but no information about its pricing is yet disclosed.
D
here,s me looking for a bit of guidance, is this the phone for me?.. Instead of clever comments, or decent information, i get some jumped up order of go grab yourself!!.. when someone is giving an honest opinion and sharing a thought, who are...
c
samsung has to do somthing on his battery, touchscreen kills battery`s
?
I have an idea.. why dont you grab yourself while you are grabbing this phone you pretentious knob. V3i D&G, LG Prada, Samsung and Armani?? Have they not realised that it is degrading the name of these brands??? What is the world coming to when we...
ADVERTISEMENTS