This article is outdated. We have already published a full review.
User interface – best of both worlds
Putting a custom skin on the OS is what manufacturers have always been keen to do. They would tailor the user interface to their own understanding of usability. The bottom line though, is making it unique and recognizable, to set it apart from competing devices using the same software.
The Samsung I5800 is no different – the interface has been tweaked to look very much like Samsung's pride and joy, the Bada OS.
Much like on the Samsung Galaxy S, on the I5800 Samsung have managed to blend their interface with the native UI, rather than just slap one on top of the other. Given the inherent similarities between Bada and Android, the I5800 UI is very smooth and consistent.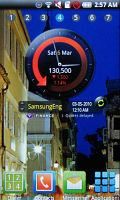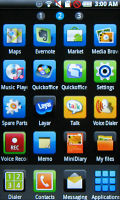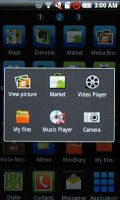 Android skinned to look like Bada OS
People who have used TouchWiz before (few have yet got a chance on its successor, Bada) won't take long to feel at home. The good news though is the same holds true for Android users. Samsung have changed the vanilla Android enough to make it their own, but all the strengths of the Android interface are intact.
There are four buttons at the bottom of the homescreen that provide shortcuts to the main functions of the phone – dialer, contacts, messaging and applications. There are 7 homescreen panes instead of the five in Android 2.1, and the current position is indicated by numbered dots top of the screen.
The notification area has also been tweaked – it now has four toggles to mute sound and turn Wi-Fi, Bluetooth and GPS on and off. These are accessible from pretty much anywhere, so if the app requests, say, your location or wants to download lots of data, you can switch on GPS or Wi-Fi in a couple of clicks.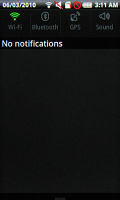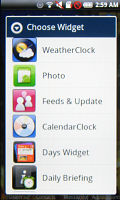 The revamped notification area • Samsung have thrown in quite a few widgets
The homescreen makes heavy use of widgets – they are not just cute little apps that show the weather or tell you to quit smoking. Some custom Samsung widgets have enough functionality to be apps in their own right.
For example, the Feeds & updates widget streamlines the updates from Facebook, MySpace and Twitter into a single feed and lets you post updates to these sites straight from the widget itself. You get full-blown apps for Facebook and MySpace for the more complex tasks.
The Daily Briefing widget is an exact copy of the eponymous application in Bada OS and being on the homescreen feels much more natural for what it provides – a one-stop summary of the weather, stock quotes, news and upcoming appointments in the calendar.
There's also the StockClock, which combines the clock with a stock quote ticker, and the Days widget, which works with the Mini Diary app – it's similar to HTC's Footsteps.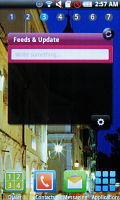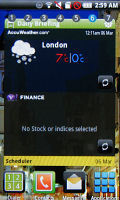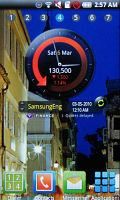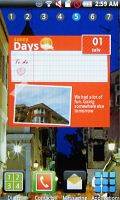 The Feeds and Updates widget • Daily Briefing • StockClock • Days widget
So, you can customize the homescreen into either a handy business tool or a social networking hub. With seven homescreens at hand, you can easily have both.
An interesting addition in the folders section is the Facebook phonebook folder.
The lock screen imitates the Samsung S8500 Wave and Galaxy S – there's a translucent glass that you have to slide away to unlock the phone. There's also a smart unlock function which - unlike the standard Android version - doesn't use a grid of dots but lets you scrawl a random shape pattern. However it didn't seem complete, we couldn't even change the lock pattern. We'll have to wait for the final version to find out if it can launch apps.
Text input, Android meets Swype
Text input is not usually a particularly exciting part of a preview but the Samsung I5800 is different. Just like Samsung Galaxy S, it features a Swype-enhanced on-screen QWERTY keyboard in both portrait and landscape.
The way Swype works is instead of tapping on keys you sweep a finger across the keyboard. To "type" quick, you need to put a finger on the Q key and sweep over to U, then I, then C and all the way to K. There's a visual trail that marks your finger movement across the keyboard.
It doesn't matter if the trace goes over other keys, in fact you can't help it. But Swype recognizes the word you intended to enter with surprising accuracy – it correctly guessed "xylophone" without breaking a sweat. The high precision means that even fast sweeps will be recognized correctly, so you can enter text very quickly and keep the error rate low at the same time.
With shorter words, there might be several combinations possible – in that case Swype simply prompts you to pick which one you meant. If you accidentally picked the wrong word, you can double tap on it and pick again.
You'd think that there would be hurdles – like entering "son" or "soon" without Swype asking you which word you want every time. But there's a way around that – if you want to enter a double letter just draw a small circle on it and continue swiping (or "swyping") as usual. Drawing that small circle is a little hard to get used to though.
Swype is very unobtrusive - it presents the user with a regular-looking QWERTY keyboard, on which you can type by tapping the keys the old fashioned way. Swype is cool though once you get the hang of it.
With Swype you're likely to never hit space – it's automatically inserted before every new word you sweep to type. To switch to uppercase you sweep up from the keyboard into the text box. The only thing it doesn't seem to do is automatically capitalize the fist letter following a fullstop. But that may as well be corrected in the final software version.
Swype has a pretty big dictionary built-in, but you can teach it new words too (just type them out the regular way and the word will be remembered for next time).
There's an excellent tutorial, which shows you step by step how to do everything with Swype – capitalizing, punctuation and a few other tricks.
We think that Swype is a great improvement over the regular virtual keyboard and we'd like to see it in more handsets. Most importantly though, it's there if you like it – if not, you don't even have to turn it off or anything. Just type instead of sweep