Galactic twins
Samsung Galaxy 3 and Galaxy Apollo review: Galactic twins

Organizer has everything you need
The Samsung I5800 Galaxy 3 comes with the ThinkFree Office pre-installed – it's both a document viewer and an editor. It is capable of pinch zooming, and while both panning and zooming are not very fast, they work ok.
When you try to edit a complex document, though, things start to slow down considerably. The time between tapping a key and the letter actually being typed can take nearly a second, which is ruining the whole experience. Things worked better on the Galaxy S, but it had a more powerful CPU.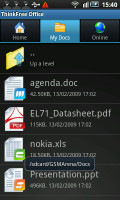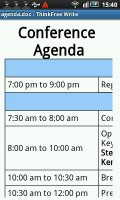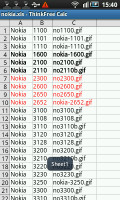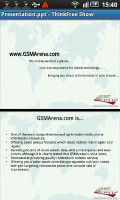 ThinkFree Office for viewing and editing documents on your Samsung Galaxy S
The calendar has four different types of view - agenda, daily, weekly and monthly. Adding a new event is quick and easy, and you can also set an alarm to act as a reminder.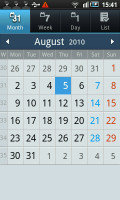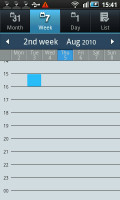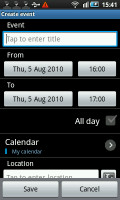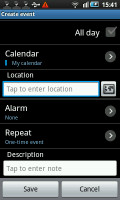 The organizer centerpiece - the calendar
The agenda view shows a list of all the calendar entries from the recent past to the near future. It's a very handy tool when you need to check your appointments for the next few days.
There is also a calculator aboard. It is nicely touch optimized - the buttons are big enough and easy to hit.
The Samsung I5800 Galaxy 3 features a decent alarm clock application which allows a huge number of alarms to be set, each with its own start time and repeat pattern.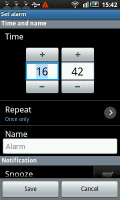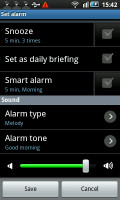 The Clock app has the alarm options
Samsung have included the My Files app – a simple to use but functional file manager, which can also be used as an image gallery (though not as cool as the Android one). It can move, copy, lock and rename files in bulk, even send multiple files over Bluetooth. It will only browse the memory card and the large internal storage (it can't access the inbuilt memory).
Finally, comes the YouTube app which, as we said, partially compensates for the web browser's lack of Flash support. Its interface is simple enough to let you find whatever you're looking for as quickly as possible.
Some good apps
Samsung made sure to upload a few of their home-brewed apps to the I5800 Galaxy 3 and we really appreciate their work. They are quite useful and can be updated via Samsung Apps. Whenever Samsung updates some of the current apps or widgets, or releases new ones, you'll find them here.
The AllShare app allows you to stream content to and from different kind of devices (TV or computer). We didn't give it a proper run for its money, but we guess it works over DLNA.
Daily Briefing is the same as the dedicated widget – it shows the weather, stocks and your current schedule. The app works only in portrait mode.
The Memo app is self-explanatory. Write and Go can send SMS and email and also update the status on Facebook, MySpace or Twitter. It can also save the text as a memo (which can be color coded for better organization) or as an event in the calendar instead.
The Voice Dialer was a huge disappointment. It failed to recognize any of our commands.Luckily Google Voice Search is onboard and it works great. The speech recognition is close to perfect and you won't be disappointed.
A new addition to the application package of Samsung handsets is the popular Layar Reality browser. It's a search app enhanced by augmented reality. Your search results for various POIs – gas stations, hotels, parking, restaurants, shops, etc – are returned and displayed in an augmented reality environment using the handset's GPS and camera.