Galactic twins
Samsung Galaxy 3 and Galaxy Apollo review: Galactic twins

GPS with Google Navigation
The Samsung I5800 Galaxy 3 comes with a GPS receiver that got a satellite lock in about two minutes with A-GPS turned off. A-GPS can speed this up quite a bit, but requires Internet access. Or you could use the wireless network location feature (based on nearby Wi-Fi networks and Cell-ID), which isn't very accurate but is the fastest option by some distance.
It comes as no surprise that Google Maps including Navigation come preinstalled. Unfortunately, voice-guided turn-by-turn navigation by Google Maps still has limited availability.
Still, even without Navigation, there is some kind of guidance: your route and current location appear on the screen so you'll reach your destination eventually, but you'll need a co-pilot to read you the instructions for that one.
Quite naturally, the app also supports Street View mode. In fact, this mode is probably the best part of Google Maps. If the Street View is available in the area you're interested in, you can enjoy a 360-degree view of the surroundings. When the digital compass is turned on it feels like making a virtual tour of the location!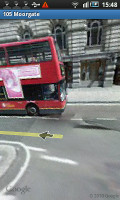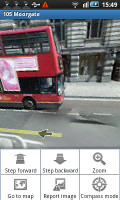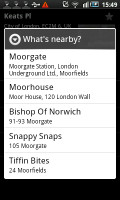 Using Street View • What's near by?
The Samsung I5801 Galaxy Apollo also adds Orange Maps. However, it wouldn't install on our unit so we couldn't test it.
Anyway, the Android Market has some paid and free alternatives to Google Maps, along with apps for recording your hike and so on that most SatNav apps can't do.
Android Market meets Samsung Apps, Orange App Shop
Yep, the Android Market is a valuable source for apps (though not the only one, you can install any app if you have the APK file). The number of apps in the market is ever growing and a recent survey showed that it has the highest free-to-paid apps ratio out of all the app stores. It's just too bad they are low on 3D games.
The first screen of the Market shows several featured apps. The Market organizes apps and games into two separate tabs and each tab lists sub-categories (e.g. Finance applications, Arcade & Action games). In each category you can select to view the Top free apps or ones that are "Just in".
There's a third tab – Downloads – that keeps track of what you've already downloaded. Do keep an eye on this tab – when updates become available for an app you've installed, a label shows up next to the app name to notify you.
Applications range from pretty silly (including one that simulates a doorbell), through fun (e.g. a virtual guitar) to real must-have's (including task killers, navigation software and more), but that's true for every other app store.
Samsung have thrown in their own app store into the ring – Samsung Apps. It currently doesn't have much of an interface or apps in it. The only app available for the Samsung I5800 Galaxy 3 seems to be some TV remote app.
The Samsung I5801 Galaxy Apollo on the other hand includes the Orange App Shop. It has more apps to offer, though it can hardly compete with the central Android Market.
Final words
And we're across the finish line. The two Galaxies performed very well for their relatively low standing in the Android world. The only feature that was consistently a problem is the screen – WQVGA is just not enough for a 3.2" screen.
Other than that we have very little to complain about. The CPU ticks faster than the majority of non high-end Androids. It lagged when it came to editing complex Office documents, but to do that properly you really need the power of a 1GHz processor.
Still, having a document editor is much more than we expected – even some of the top dogs don't have one on board. Bluetooth 3.0 is also a pleasant surprise, as is the 802.11n support.
You might want to point to the camera as another downside, but you really can't expect more in this price range. And videos aside, the camera on the Samsung I5800 Galaxy 3/I5801 Galaxy Apollo is good enough to update your profile on Facebook.
We said that the Galaxy duo is lower-mid range but let's see who its main competition might be.
The Samsung I5700 Galaxy Spica is the major obstacle between the Galaxy 3/Galaxy Apollo and your pocket. It has a 3.2" capacitive touchscreen but has HVGA resolution, which makes for a much sharper image. Also the CPU is clocked at 800MHz, not too far off the current maximum for a mobile phone.
The Spica's age is showing, but that's not necessarily a bad thing. Just check out the price and see – it's noticeably cheaper than the Galaxy 3 (though if you find an Orange plan that suits you, the Galaxy Apollo may turn out cheaper). On the other hand it has Bluetooth 2.1 (and not 3.0) and no Wi-Fi n, but that's it basically.
The HTC Wildfire is in the same segment as the Samsung I5800 Galaxy 3. It beats it with a 5MP camera, though the lower-res screen (3.2" QVGA) and slower CPU (528MHz) are points against it. It does feature HTC Sense though, which some might prefer over TouchWiz.
The petite Sony Ericsson XPERIA X10 mini is impressive with its small size. The camera is better at 5MP and VGA@30fps and features good social networking integration in the software. The software is holding it behind though – Sony Ericsson is working on an Eclair update, but for now it's v1.6 Donut.
Cheaper entries into the Android world are the LG GT540 Optimus and the HTC Tattoo. They cut down on the features somewhat (smaller resistive screens, slower CPUs with older software, etc). Still the Optimus offers more resolution and just like the Galaxy 3 packs DivX/XviD support, so it's a viable alternative for movie buffs.
As you can see it's hardly a clear choice – you'll have to weigh the features and the price difference. But as a single smartphone package, the Samsung I5800 Galaxy 3/I5801 Galaxy Apollo offers a very competitive solution.