A hitchhiker's guide
Samsung I7500 Galaxy review: A hitchhiker's guide

User interface is standard Android
The Android UI is no longer sight unseen but for the review to be complete, we'll go through it once again.
And here's the best part - it's a mature implementation and has been optimized and polished of bugs. It feels extremely zippy, at first we thought it was a faster CPU. Nope, it's the same old 528MHz CPU but the interface can run circles around the original G1.
But enough of how fast it is, let's look at what it actually does. The focal point of the interface is the homescreen. Maybe it's because of its aspirations to be a netbook instant-on OS but it looks closer to a desktop than a mobile phone's homescreen.
The homescreen is three times the size of the display, giving you enough room to organize all the items you want to put up front. And there are plenty of things that can go up there. The screen shows you one third of the screen and you can sweep left or right to get to the other panes.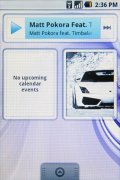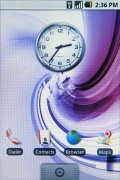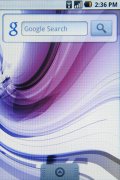 The three homescreens with the various widgets
On the homescreen there are three major types of items - the good old shortcuts, then folders and finally, widgets.
First off, shortcuts are just like the shortcuts on your desktop computer, so not much to explain here.
Folders can help you keep the shortcuts organized but you can't put folders within folders. Still, they can be used for a few quick tricks - like faking a quick-dial contact list. A shortcut to a contact uses that contact's photo so all you have to do is put them in a folder.
But this is hardly very interesting - it's when live folders come into play that it gets exciting. The main difference to ordinary folders is that the live folders are automatically filled with content.
All sorts of lists can go into Live folders - for example, you can have a folder that contains all the tweets from a contact, or an RSS feed, or maybe even a folder with all the good restaurants within walking distance from a given location.
The preinstalled Live folders are "Contacts with phone numbers" and "Starred contacts". They are filled with your Gmail contacts that either have phone numbers or are starred. We would have loved to see more - Live folders are a great feature, and quite novel - but if it isn't promoted right, it might not pick up at all.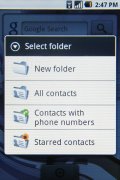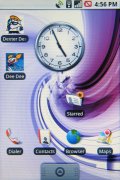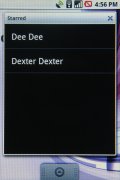 Creating a live folder • the Starred contacts folder
The other inhabitants of the Android homescreen are the widgets. There are two new preinstalled widgets that come with the Android v1.5 - a calendar and music player. The music player widget is simple enough - it has a play/pause button, a skip button and shows the currently running track name.
The traditional search widget got an update and now shows suggestions as you type, just like the Google homepage. In Android v1.6 the widget will get a further update allowing it to search for local files as well.
The calendar widget is a little limited - it only shows upcoming events. That's nice since it manages to fit even long event descriptions but it doesn't have a monthly view mode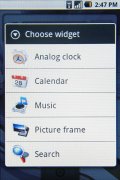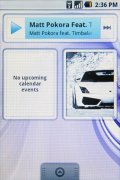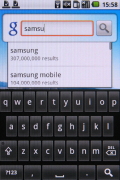 The music player and calendar widgets • preinstalled widgets
One of the new widgets (although it seems to be an app technically) is the "Switchers". It provides a quick and convenient way to switch GPS, Wi-Fi, Bluetooth and Auto sync on and off. Its downside is that it provides no means to search and connect to a wireless network for example. Unless, it's an already configured network, you need to go through the Settings menu.
One big advantage of Android is the notification area. It's a thin bar at the top of the screen with status info about battery, signal strength and others such as Bluetooth or missed events.
But if you slide it down you get a list of all recent notifications - that's the so called notifications area. Tapping on one of the listed notifications takes a context relevant action - for instance, a tap on a notification of a successful installation would launch that application; a finished download notification will open the file and so on.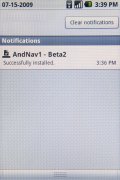 The notification area fully open
Since you can open the notification area from wherever the top bar is visible, new events won't interrupt your work. You can pull the tray down like a window blind just enough to see more details about what has happened and if it doesn't need your immediate atention you can let it roll back up and continue where you left off.
Sometimes you don't even have to slide - upon receiving a new SMS the first few words of it flash in the status bar, giving you a general idea what it's about.
Virtual on-screen keyboard for small robotic fingers
With Samsung I7500 Galaxy all you have to type with is the virtual on-screen keyboard. It does the whole-letter pop up each time you press a key but there's something to look out for - three dots under the letter. If those appear, a press and hold will bring up all available related symbols - the letter with all the diacritics for example. The keyboard also auto rotates to landscape thanks to the accelerometer.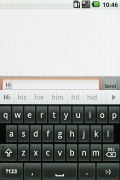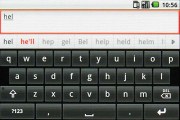 The keyboard in portrait and landscape modes
The I7500 virtual keys are smallish - especially in portrait mode - and typing could be very error-prone. Otherwise, the keyboard offers helpful features like a ".com" button when you're typing an URL, or a "Next" button when there are more fields to fill in, with that button changing to "Done" at the end.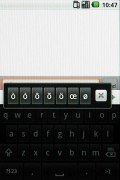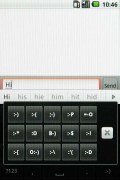 Variations of the letter 'o' • the smilies work the same way
You will notice that the Apple iPhone keyboard is physically larger. The larger screen estate surely adds to that.



Samsung I7500 Galaxy and Apple iPhone QWERTY keyboards size comparison
Android UI 101
Here we'll make a quick list of the basic ways to interact with the Android UI for those who haven't used one before.
You scroll the three panes of the homescreen by sweeping
To move an item (be it a shortcut, folder or widget), press and hold it until the phone vibrates. Dragging it to the sides of the screen allows you to move it across the different panes of the homescreen.
To remove an item from the screen, drag it to the Main Menu button (which temporarily turns into a trash can)
To bring up the task switcher, press and hold the Home key
To add an item to the homescreen, press and hold on an empty space (we like that), or use the Menu key
Keep in mind that the "Main Menu" button is a virtual control at the bottom of the screen marked with an arrow, which opens the list of all applications. The Menu key is a hardware knob, which brings up a context specific menu (e.g. on the homescreen it brings up options to add items, change wallpaper, etc.)
The "task switcher" is not really a task switcher, nor is it a task manager. Android automatically opens and closes applications. When resources start to run out, it might close a currently inactive app but it will restore it back to just how you left it. It's more like the system puts the app to hibernation instead of closing it. Still, the task switcher is useful as it gives you access to the six most recently used apps.
Gesture lock, the secret handshake
Gesture locks are gaining momentum and a cutting-edge OS like Android is bound to have them. While some versions require that the pattern is a letter, the Android way is to draw a pattern. The phone can be set to require a preset pattern of onscreen sweeps each time you're unlocking it.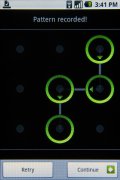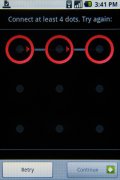 First you record a pattern of at least 4 dots
The way it works is you're presented with a 3 x 3 grid of dots and you have to connect at least four dots in whatever order you choose. We'd advise against using too complex shapes, as you have to draw the shape again if you are to cancel or change it, so forgetting it would be an issue.
You can choose to have haptics enabled so with a little training you can unlock the phone without looking at the grid. There's even an option to disable the trail that connects the dots completing the pattern.
The letter-based locks have the advantage of different letters doing different things - not just unlock, but even launch an app. Android doesn't have it yet but maybe it will get it in the next snack-named version.