A hitchhiker's guide
Samsung I7500 Galaxy review: A hitchhiker's guide

Phonebook has fields for everything, but no groups
The phonebook can store quite a lot of information. It lets you input numbers for work and home, and you can even create custom labels. There is of course an email field and you can assign a custom ringtone.
You can also add IM nickname info to the contact as well as a postal address, company and job title, several notes, you name it. Quite interesting is the option to redirect calls directly to voicemail.
There are many info fields that you can assign to each contact, but it still remains perfectly organized. You have all the types listed (numbers, email addresses, etc) and there's a plus sign on the right - clicking it adds another item of that type. Pressing the minus sign under it deletes the unneeded field.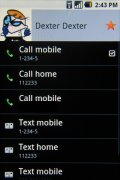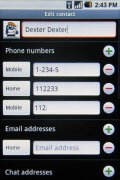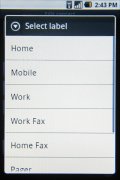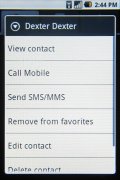 Viewing a contact • editing a contact • contact options
When viewing a contact the various details are displayed in sections. There is a Dial number and a Send SMS/MMS tab with the numbers for the contact listed. Each number fills an entire horizontal row so that it's more thumbable.
Email also has a dedicated tab that works just like the ones for numbers. The rest of the information (if any) is displayed underneath.
You can "star" a contact, which puts it in the Favorites tab. Also, in each Gmail account there's a special group called "Starred in Android" where these contacts go automatically.
Adding a photo to a contact is quite easy: when you select a photo, a cropping tool comes up allowing you to use any photo you want. Adding a photo has another pleasing "side effect" - if you put a dialing shortcut for the contact on the screen, it uses the photo as an icon.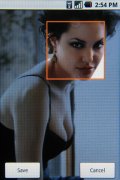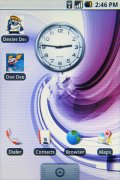 Cropping made easy • contact shortcuts on the homescreen
Searching for a contact in the phonebook is quite easy - just hit the search key and a search box pops up.
Telephony desperately needs smart dialing
Samsung Galaxy reception is quite good as is the voice quality. However, the sound strength is low even on the loudest settings.
Alas, the phonebook on the I7500 Galaxy has a problem that should have been solved - there's no smart dialing. In Android the phonebook, call log and dialer are all part of the same application. You can search the phone book but that's still not as convenient as smart dialing. The HTC Hero had it, so we guess that Samsung just didn't bother with the effort. Voice dialing is also missing.
The call log shows all the dialed, received and missed calls all in one.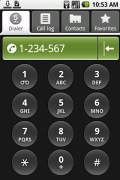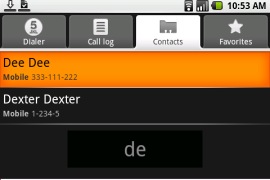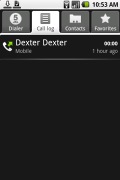 Dialing • searching for contacts • all the calls are stored and displayed en masse
| | | | | |
| --- | --- | --- | --- | --- |
| Speakerphone test | Voice, dB | Pink noise/ Music, dB | Ringing phone, dB | Overall score |
| Apple iPhone 3G | 66.1 | 62.1 | 71.7 | Below Average |
| Nokia 5800 XpressMusic | 75.7 | 66.5 | 68.5 | Good |
| LG KM900 Arena | 70.9 | 68.2 | 78.3 | Good |
| Samsung I7500 Galaxy | 72.6 | 66.6 | 76.3 | Good |
| HTC Magic | 70.3 | 69.5 | 79.3 | Very Good |
| HTC Hero | 76.7 | 71.9 | 77.7 | Very Good |
| LG KF900 Prada | 77.1 | 75.7 | 82.0 | Excellent |