A hitchhiker's guide
Samsung I7500 Galaxy review: A hitchhiker's guide

Multimedia not as rich as possible
The gallery automatically locates the images and videos, no matter where they are stored. Images and videos located in different folders appear in different sub-galleries that automatically get the name of the folder, which is very convenient - just like a file manager.
Right next to the name is a number indicating how many items are in that folder. Each sub-gallery has a thumbnail, which displays either the latest image (if the folder contains less than four images) or four thumbs if there are at least four files in this folder. There is no way to change these viewing options.
From the main Gallery there are two new shortcuts that allow you to start recording videos or capture images. On the other hand, the flip orientation shortcut is now gone as there is system-wide UI auto-rotation.
Sadly, there still is no option for multiple marking of images for mass cut/copy/delete. However scrolling thumbs of images up and down is even smoother and quicker now. Caching images may take quite a while when you open a gallery for the first time, but once that's done, they are loaded almost instantaneously even if a folder contains thousands of them.
Zooming in and out has also been improved in this version of the OS. You can zoom to 100% with simple a double tap on the screen. The gradual zoom is on bigger steps now, which we find to be much more convenient. Another addition is the crop key in the contextual menu in an opened image.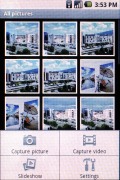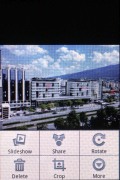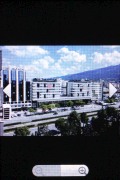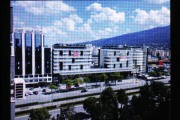 The crop shortcut in the contextual menu • zooming on an image is much easier now
Video player, the Spartan way
We were quite disappointed with the lack of a video player in the original version of Android (although we found a silly hack to view 3gp files via email). And when the HTC Magic came it could play videos from the gallery but had no dedicated application.
Finally, the I7500 Galaxy has one on board… well, sort of. It's about as simple as you can make it - once you hit the video player icon you get a list of all videos available on the phone. And the controls while playing a video boil down play/pause, next and previous buttons, as well as a draggable progress bar.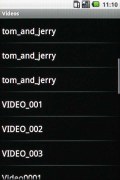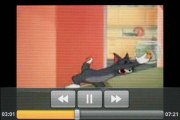 A basic video player - it's a start
The I7500 Galaxy video player seems to support only the H.263 codec but since the application crashed when trying to play other files, we suspect it's still not finished. And we were certainly hoping for DivX support.
Another thing the app really needs is some UI to filter videos like the one in the music player.
Music player has a unique trick
The first screen of the music player has four large buttons, which offer the four main ways to search in your music collection - by artist, album, song or choose one of the playlists you've created.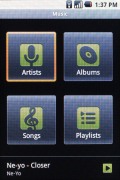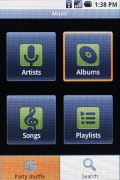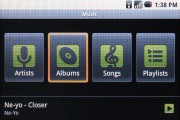 The icons in the music player are bigger now, but generally the player UI is still the same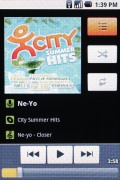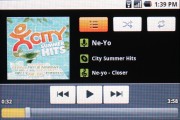 Nothing new in the now-paying menus
The functionality of the music player hasn't changed much. It has that great feature that allows you to quickly look up a song in YouTube or through Google search by holding down a finger on a song. What's even better, the YouTube search results are loaded Straight into the YouTube client.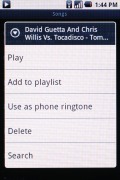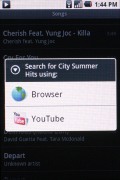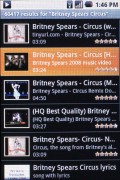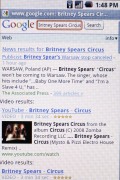 The Search in YouTube/Browser feature is great; we haven't seen anything like it in other platforms
Besides gradual typing for searching a specific song, there is an alphabetical slider, which appears on the right side of the track list.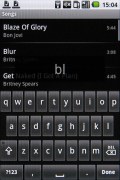 Gradual typing and the new alphabetical search tab are the options when looking for a specific song
There are still some shortcomings of the music player that need addressing, though. There are still no equalizer presets, nor any alternative visualizations.
Pretty good audio quality
The audio quality of the Samsung I7500 Galaxy is certainly the best among the Android handsets that we have tested so far. It's not that it is that much better in every aspect than, say, HTC Hero, but the more balanced output it gives will be better appreciated by users.
The low noise level and the good dynamic range are the strong points of the Galaxy performance, while the rest of the readings are decent, to say the least.
The frequency response is much better than the shaky result that we got from HTC Hero. The distortion levels of the Galaxy are also several times lower so we would be pleased to say that Android took another step towards the best on the market in terms of audio quality with the Samsung I7500.
And here go the results so you can see what this Galaxy is up to for yourselves:
| | | | | | | |
| --- | --- | --- | --- | --- | --- | --- |
| Test | Frequency response | Noise level | Dynamic range | THD | IMD + Noise | Stereo crosstalk |
| Samsung I7500 Galaxy | +0.13 -1.04 | -83.8 | 86.3 | 0.023 | 0.118 | -75.2 |
| HTC Hero | +1.04 -2.13 | -91.3 | 92.3 | 0.458 | 0.902 | -95.8 |
| HTC Magic | +0.21 -2.20 | -85.6 | 88.8 | 0.025 | 0.220 | -86.0 |
| T-Mobile G1 | +0.22, -2.52 | -87.2 | 89.2 | 0.017 | 0.289 | -86.1 |
| Samsung S8000 Jet | +1.01 -2.03 | -87.9 | 87.0 | 0.015 | 0.060 | -85.9 |
| LG KM900 Arena | +0.09, -1.61 | -91.6 | 91.7 | 0.0017 | 0.101 | -90.4 |
| Apple iPhone 3GS | +0.01, -0.05 | -92.1 | 92.1 | 0.0035 | 0.011 | -95.0 |
| Samsung i8910 Omnia HD | +1.29 -2.74 | -87.6 | 86.6 | 0.0023 | 0.255 | -85.2 |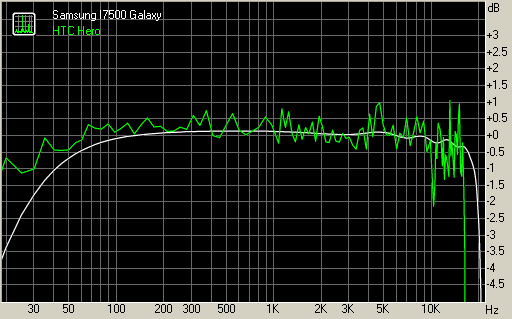 Samsung I7500 Galaxy vs HTC Hero frequency response graphs
You can learn more about the whole testing process here.