A hitchhiker's guide
Samsung I7500 Galaxy review: A hitchhiker's guide

Organizer syncs with the cloud, lacks a document viewer
The Samsung I7500 Galaxy comes with no document viewer preinstalled - no Quickoffice this time around. Here the Market jumped to the rescue and we quickly found Documents To Go.
The free version is just a viewer for Word and Excel files (no PowerPoint), but the paid app offers editing as well as a PDF viewer. Another cool feature of the paid version is that it adds a recent documents live folder. It works well enough, but suffers from some annoying limitations (e.g. no zoom in the free version).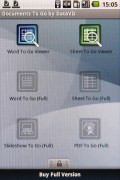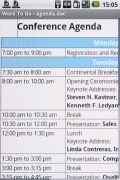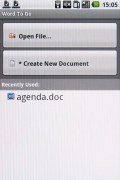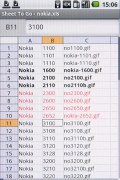 Free alternatives don't work as well as premium apps
The best part about it, is that the viewer integrates with the Gmail app as well, which makes viewing attachments easy. Unfortunately, you are unable to save them in the phone's memory (that only works for images, we guess). Attaching saved files (and we mean all kind of files) is possible though.
At any rate, not having a document viewer out of the box is a disadvantage for a high-end smartphone, especially in this price range.
The calendar has four different types of view - agenda, daily, weekly and monthly. Adding a new event is quick and easy, and you can also set an alarm to act as a reminder.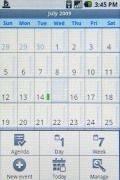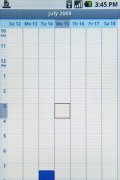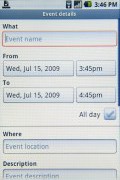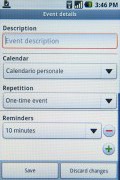 The calendar is well organized • adding a new event is quick and easy
There is also a calculator aboard. It is nicely touch optimized - the buttons are big enough and very comfy.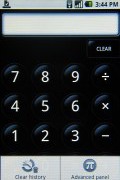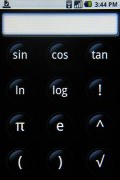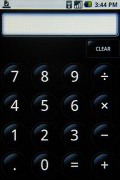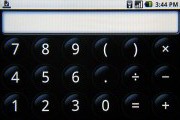 It doesn't take a mathematician
The Samsung Galaxy features a decent alarm clock application which allows a huge number of alarms to be set, each with its own start time and repeat pattern.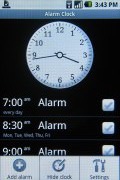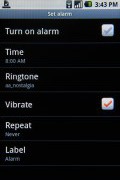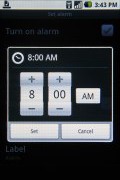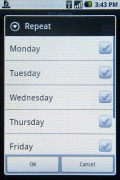 The alarm clock gives a lot of room for customization
Finally, the Galaxy packs the YouTube app which partially compensates for the web browser's lack of Flash video support. Its interface is simple enough to allow you to find what you're looking for as quickly as possible.
GPS navigation
The Samsung Galaxy comes with a capable GPS receiver, which coupled with A-GPS technology, gets a sattelite lock quite fast actually.
It comes as no surprise that the only application you can rely on for navigation right out of the box is Google Maps. Its interface is slightly different from what we've seen before.
Quick double-tapping can no longer be used for zooming in and out; instead, you should use the two virtual buttons at the bottom of the screen. These are hidden when not in use and only appear when you touch the screen. But despite the little changes, this is still the familiar Google Maps app we know and like.
Quite naturally, the app also sports Street View mode. In fact, this mode is probably the best part of the Google Maps. If the Street View is available in the area you're interested in, you can enjoy a 360-degree view of the area. When the digital compass is turned on it feels like making a virtual tour of the surroundings!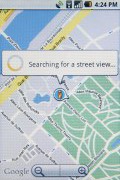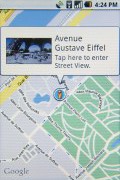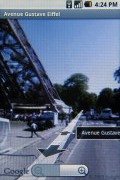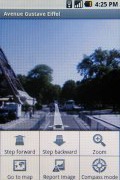 The digital compass takes the Street View to a whole new level
Unfortunately, voice-guided turn-by-turn navigation isn't possible using Google Maps. Still, there is some kind of navigation: your route and current location appear on the screen so you'll reach your destination eventually... assuming you can read maps of course.
Luckily, there is a free app that allows turn-by-turn voice-guided navigation on the Galaxy and it's called AndNav2. The latter uses Google Maps, again, but adds some extra features that justify the download. AndNav2 uses the inbuilt digital compass and you no longer have to turn the handset to orientate the map to match your direction.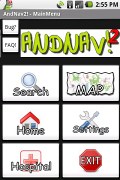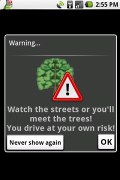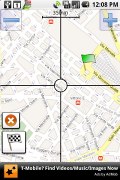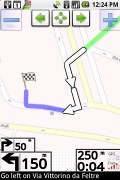 The AndNav2 navigation application
As mentioned, the AndNav2 app offers turn-by-turn navigation, which isn't bad at all. The voice-guided part, however, is questionable - to use it you need an extra, free app (Text-To-Speech Library) which supports English along with many other languages. Using text-to-speech engines instead of pre-recorded voices will give you a horrific computerized voice but the app is still helpful.
If you're willing to pay for more, finally a full-featured SatNav solution was announced recently - Sygic Mobile Maps. It offers voice-guided navigation in more than 20 languages and comes complete with lane guidance, POI and even speed camera warnings.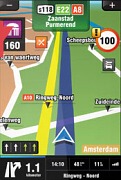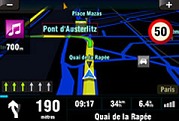 Sygic Mobile Maps navigation software for Android
The price seems reasonable - 49.99 euro for UK and Ireland, 79.99 for entire Europe, 62.99 euro (that's 94 US dollars) for US, Canada and Mexico. There are no additional fees but it still seems a whole lot compared to free but still. Here's the product website if that got your interest.