This article is outdated. We have already published a full review.
Touch-centric web browser with true Flash support
Our Samsung I8000 Omnia II came with the Opera browser, which makes Internet Explorer Mobile redundant. The Opera 9.5 browser is extensively touch-optimized and seems heavily inspired by the iPhone Safari browser. While the latter won't get Flash support even with the iPhone OS 3.0 expected later this month, the Opera 9.5 browser already has it. Having said that, the Opera 9.5 browser is a great solution but it has its flaws too. For more details check our detailed review of the HTC Touch Diamond.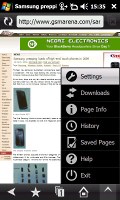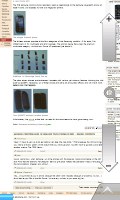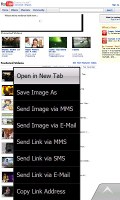 The web browser offers full Flash support
All the software aboard
The Samsung I8000 Omnia II comes loaded with additional third-party software to meet various users' needs. It's got regular stuff such as the RSS Reader and Streaming player, but it has some really original applications to go along. You should bear in mind though that the software package might be market-specific.
The RSS Reader application is rather self explanatory. It gives you quick access to RSS feeds for staying on top of the latest news and content on your favorite websites.
The Podcasts application allows you to subscribe and download video and audio podcasts of your choice.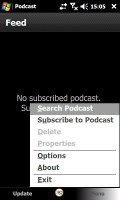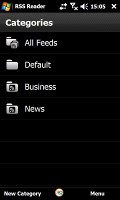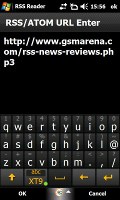 The RSS Reader and the Podcasts manager
And finally, the Picture Frame application allows you to use the I8000 Omnia II as a digital picture frame with highly customizable content.
Besides displaying a slide show of images in landscape mode, the Picture Frame also offers a total of 5 different clock/date styles. You can have music playing in the background too and, if needed, event alerts such as incoming message or alarms can be suppressed when the Digital Frame is running. Furthermore, the interface of the application is highly touch optimized.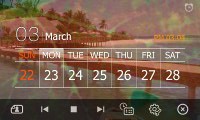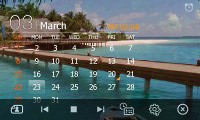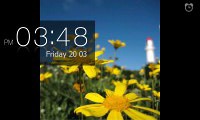 The Digital Frame app and the various ways of displaying information - it even shows your appointments on the calendar
Application Download… or just another App Store
The Samsung I8000 Omnia II arrived with a pre-loaded app called Application Download, granting you access to Samsung's app store. Of course, here comes again the inevitable comparison to the App Store. The structure and the whole idea screams "App Store" but that's according to expectation.
Applications are displayed into several tabs - Recommended, Hot and Category. You can also see all downloaded items or to search for new ones.
Before you download an app you can read its detailed description and check its rating.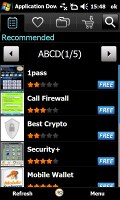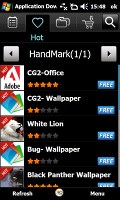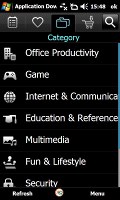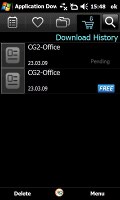 Take a look at Samsung's app store
A cool GPS navigator to be
The Samsung I8000 Omnia II will feature a built-in GPS receiver that can be used by multiple applications running at the same time. There is also A-GPS support for much faster satellite lock upon cold start thanks to current satellite data downloaded over Wi-Fi or the 2G/3G network.
With its huge 3.7" display the I8000 Omnia II has the potential to be a very cool GPS navigator.
It would have been nice if there was a pre-loaded GPS navigation app but since there isn't you'll have to purchase one separately. Google Maps however is already on-board, so you can always use that as a stop-gap.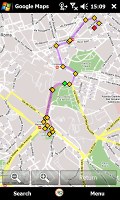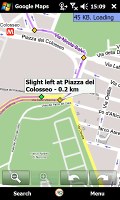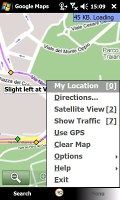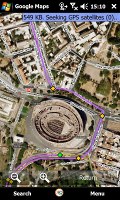 Viewing a map on the Samsung I8000 Omnia II (Google Maps, Rome)
Since our Samsung I8000 Omnia II was a beta-unit and the GPS receiver didn't work with Google Maps we'll share our impressions of the GPS navigation capabilities of the I8000 Omnia II in its full review. Still, considering its large 3.7" touchscreen, powerful CPU and large-capacity battery, we expect them to be pretty positive.