First look
Samsung Galaxy S III mini preview: First look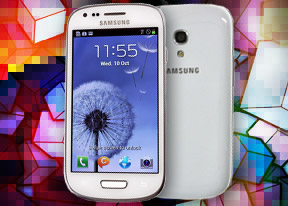 The Jelly Bean browser is good
The Samsung Galaxy S III mini has the Jelly Bean version of the Android browser, which is one of the last iterations before Chrome takes over for good. Naturally, you have the option to install one of the other third party browsers available at the Play Store, including Chrome as the Galaxy S III mini is a 4.1 device.
The browser supports both double tap and pinch zooming along with the two-finger tilt zoom. There are niceties such as multiple tabs, text reflow, find on page and so on. A neat trick is to pinch zoom out beyond the minimum - that opens up the tabs view.
We had issues with the Flash support on the Galaxy S III mini but this could again be the non-final software to blame. Otherwise there's no reason why the S III mini might have trouble with Flash content. The two Cortex A9 cores the device is packing are perfectly capable of playing even HD Flash content.
The Web browser comes with Incognito mode, which enables you to surf the web without the browser keeping track of your history or storing cookies. You can also switch to a more minimalist UI, which currently is in a Lab stage. It disables most of the browser's user interface and gives you a quick five-button layout to access the basics.
First impressions
Sadly, the Samsung Galaxy S III mini isn't the compacted version of the Galaxy S III flagship some may've hoped for. What we got instead is a Galaxy S Advance on a new chassis and a minor RAM upgrade. In fact, on one market or the other, the Galaxy S Advance was known as the Samsung Galaxy S II Lite, so you can guess where this is going.
We are not saying that a slightly refined Galaxy S Advance doesn't make a great mid-range smartphone. In fact we are certain that, if priced right, the Samsung Galaxy S III mini will sell in millions, not least because of its resemblance to Samsung's flagship.
That doesn't change the fact that Samsung is simply trying to use the well-established name to promote a far less inspiring product. A valid marketing strategy that might as well be, but it's not impossible for it to backfire. It took the company three years to build the S lineup into a synonym of premium smartphone experience, but overpopulating it with ordinary handsets runs the risk of taking some of the magic away.
That said, bringing some magic to the masses would be the exact opposite school of thought – and Samsung may be getting ready for the holiday season already.