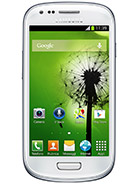 ?
Rajid, 11 Mar 2014So, what's the different with the old S3 mini i8190?i8190N 1 Ghz Dual Core JB 4.1.2 Vs i8200 1.2Ghz Dual Core JB 4.2.2
D
AnonD-324, 10 Mar 2014No Gorilla Glass, No Kitkat. Wtf. Cheers!!yea. mine's the first version.. no 4.2, no 4.3, no KitKat. planning to buy HTC
g
WCM, 10 Mar 2014Oh...MG nice feature i m waiting this...WCMOld Galaxy s2 better
Total of 191 user reviews and opinions for Samsung I8200 Galaxy S III mini VE.