This article is outdated. We have already published a full review.
GPS navigation is promising
The Samsung INNOV8 has a built-in GPS receiver with A-GPS support. Our test unit is packed with several GPS-centric applications, however we are not sure which ones will make it to the final retail product.
The Landmarks application allows you to setup various points of interest (obviously called Landmarks) by either storing your current GPS coordinates with a name, description and category or by picking a random spot on the map (provided by the Route66 Samsung Navigator app). You can also preview a previously stores Landmark position on the Route66 map.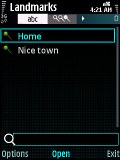 The Landmarks application for managing personal points of interest
The GPS Data application gives you raw satellite data (coordinates, time, latitude, etc). It also allows you to setup basic navigation routes - to either an already stored Landmark or to a set of GPS coordinates. It doesn't offer a map of voice guidance, as we said, it's pretty basic. It also integrates a Trip Meter, which has some pretty self explanatory functionality.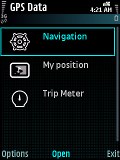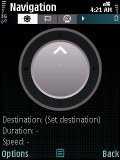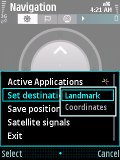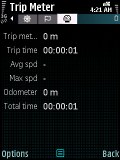 The GPS Data application: navigation screen • adding a destination • the trip meter
The GPS+ application is the A-GPS information downloading utility.
Then there's the Gypsii application that offers a host of location-based communication services.
Google Maps also comes pre-installed on the INNOV8.
And finally, there's the Route66 Samsung Navigator, which is actually the Route66 Mobile8 application.
The 8 megapixel camera managed to impress us
The Samsung i8510 INNOV8 packs a serious cameraphone punch. At 8 megapixels, there's hardly any other handset that can put up a fight - save for the Sony Ericsson C905. The INNOV8 produces images with a maximum resolution of 3264 x 2448 pixels. And if that's not enough, it also offers all kind of goodies such as geotagging, automatic panorama shooting, face detection, smile detection, and even blink detection to prevent photos of people blinking (which happens to an awful lot of people).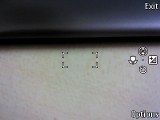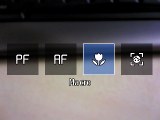 The camera viewfinder • focus modes
The camera also has a mechanical shutter (much like Nokia N73, Sony Ericsson K800 and K850), digital image stabilization, and the proprietary Samsung Wide Dynamic range, which is used to lighten up shadows in high-contrast scenes. The mechanical shutter is a nice plus - as a mechanical way of stopping light making its way to the sensor it takes care of the vertical stripes that appear in the highlights of high-contrast images also known as smear, as well as the wavy distortion that sometimes appears if you move the camera while shooting.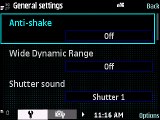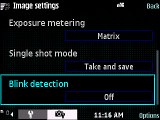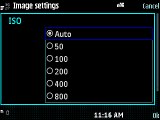 Additional camera settings: image stabilization, wide dynamic range, blink detection, ISO setup
There's also ISO control (50-1600) and various everyday settings such as white balance, preset shooting scenes, color effects, etc.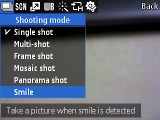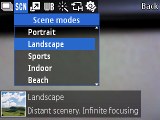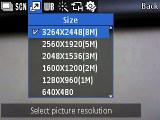 Standard camera settings: shooting modes • scene modes • resolution
As for the photo quality, there's not that much to say. Although our Samsung INNOV8 is a pre-production unit, it clearly produces by far the best photos we've seen from a cameraphone. The colors are spot on, the resolution is very high and the processing strikes the right balance, managing to suppress the noise and leave the tiny detail. Frankly, we couldn't find a single fault to criticize as far as the Samsung INNOV8 camera quality is concerned.
Here are several full resolution camera samples for your enjoyment:
And here are several more this time downsampled to 1600 x 1200 pixels (2 megapixel images). They look even better this way:
Update: Due to the huge interest we decided to add several new camera samples that we took this weekend. Now here's a bunch downsampled to 1600 x 1200 pixels (2 megapixel images):
And here is a set of high resolution samples:
With the recent announcements of 8 megapixel cameraphones many consumers are asking whether they really need that kind of resolution from their handsets. And also "Are 8 megapixels that much better than say… 5 megapixels?"
While everyone should answer the first question for themselves, we will try to answer the second one. Let's compare the Samsung i8510 INNOV8 to the Samsung i900 Omnia, which is a really good performer that we've picked to represent the 5MP crowd. Just for the fun, we are also throwing in the Apple iPhone 3G, which has a 2 megapixel snapper that in Steve Jobs' words makes "great pictures" when there is "enough light". You can bet we chose a scene with enough light.
Here is one and the same scene taken by three different handsets:




Samsung i8510 INNOV8 • Samsung i900 Omnia • Apple iPhone 3G
To be able to make a comparison between cameras with different resolution we are upsampling all images to the highest resolution (8 megapixel). This way we are simulating how the photos will look side by side when printed. The results should speak for themselves.
Here are 100% crops from the same scene to see the level of detail resolved by the three different cameras: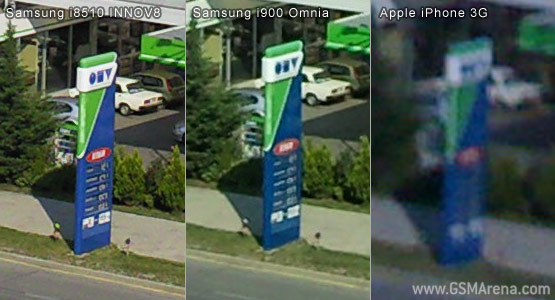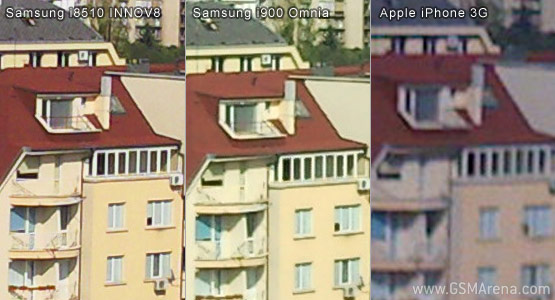 And if all that is not enough for you, the Samsung i8510 INNOV8 offers excellent video recording capabilities, too. It can capture MPEG4 video at 30fps in VGA resolution plus there's a high-speed video recording mode (QVGA@120fps) that's used for making slow-motion videos.
Unfortunately, our pre-release unit had some issues with video recording and since we are not happy with it, we will not be publishing video samples. One thing's for sure, the Samsung INNOV8 will deliver all the video recoding shebang as promised.
Final words
Well, we are really impressed by the package offered by the Samsung i8510 INNOV8. At first look the INNOV8 excels in almost every aspect combining strong multimedia performance, wide range of connectivity options and a nice set of location services. Last but not least it boasts a superior 8 megapixel camera that finally seems to be closing the gap between cellphones and dedicated digital cameras at least as far as image quality is concerned.
The Samsung i8510 INNOV8 has set the bar so high that it would most definitely take time for the other manufacturers to catch up. We are yet too see what it's fully capable of and how it performs in some more basic everyday tasks but for now the prospects are good. Stay tuned for our more detailed review.