Roaring V8 engine
Samsung i8510 INNOV8 review: Roaring V8 engine

8 megapixel camera: just great
Samsung i8510 INNOV8 has an 8 megapixel camera on board, producing images of up to 3264 x 2448 pixel resolution. It's an autofocus unit of course and there is also LED flash on board. Unfortunately, it falls woefully short of xenon, as seen in our shootout.
The camera lens is hidden under a cover that opens automatically once you turn the camera on.
The shutter key is extra comfortable to work with. In all fairness, the mode switch could've locked the middle position somewhat more firmly.
The camera UI of the INNOV8 uses our favorite tab layout and offers quite an extensive range of options. However, some of the more frequently used features, such as Wide Dynamic Range (WDR), are buried deep down in the menus. On the positive side, there are handy tooltips with helpful information for the currently selected item.
With Samsung i8510 you have a plethora of options to set - effects, white balance, ISO and even sharpness, saturation and contrast. Some of the cool camera features include image stabilization, geotagging and blink detection. That last one displays a warning every time someone in your frame has blinked.
Samsung i8510 INNOV8 also features the wide dynamic range feature, which helps bring more detail in shadow areas by reducing the contrast. However, since Symbian handsets all have a dedicated contrast option, we were wondering what the difference would be.
As it turned out, if you decrease contrast from the settings (quite illogically you should set it to +100 to do that instead of -100) the camera reveals more detail in the shadows than with WDR on. Check out these samples to see our point.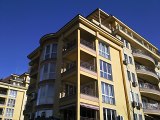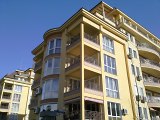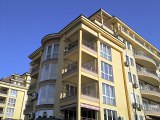 Regular photo • WDR • Manually reduced contrast
All that hardware and software conveniences however are only the tip of the iceberg with the INNOV8 imaging skill. As usual, image quality is what really matters here and the INNOV8 is probably the best we've seen on a cameraphone.
The INNOV8 has an impressive amount of resolved detail and very good color balance. Truth be told, the colors are slightly more pumped up than the originals but this is done on purpose to make the photos look more vibrant and we happen to like it. After all, this is how most compact digicams work and there is a good reason for that. We would however perfectly understand those who prefer the more accurate colors of the LG KC910 Renoir.
The image processing algorithm of the INNOV8 is really mature with no evidence of oversharpening or visible artifacts. The lens quality is exceptional, producing great edge-to-edge sharpness. We had no trouble either with exposure and focus accuracy, even difficult setups are handled easily by the INNOV8.
Macro photography is another INNOV8 strength. The phone has better depth of field than the other 8MP shooters we have tested.
As far as the downsides are concerned - the INNOV8 has one major weakness. Its LED flash is utterly inadequate for shooting anything more than a meter away and there's above average noise in low-lit scenes.
There go the Samsung i8510 INNOV8 samples we have prepared for you.













Samsung i8510 INNOV8 camera samples
For more about the INNOV8 shooting power you can revisit our epic 8 megapixel shootout. There you will also find out how it compares to the latest batch of cameraphones.
So, if imaging is your main reason for purchasing the INNOV8 you'll be more than happy with your choice. Just remember to not let the inadequate flash ruin the pleasure.
VGA and slow motion videos: camcorders beware
The Samsung i8510 INNOV8 offers excellent video recording, too. It can capture MPEG4 video at 30fps in VGA resolution, topped with two slow-motion video recording modes. Except for the D1 videos the Samsung M8800 Pixon offers, this is the best you can find on the market.
The actual quality is more than adequate and there is no trouble with framerate either. Slow-motion videos are shot at QVGA resolution and can be either four or eight times slower than the action.
You can control white balance and apply the same effects as with stills. The flash can also be turned on to act as a video light. Quite naturally, you can also record sound with videos, except slow-mo of course.
Here's a sample VGA video for you to check out.
Data transfers is the INNOV8 game
Connectivity is yet another of the Samsung i8510 INNOV8 elements.
The INNOV8 sports USB v2.0 and Bluetooth v2.0 that includes A2DP. Wi-Fi comes with DLNA support, which allows you to share content straight from your mobile to the wireless network computers. Our only regret is there isn't a quick WLAN wizard on the homescreen like on FP2 phones by Nokia.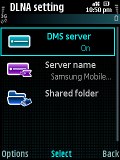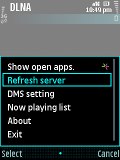 The DLNA server running and some of its options
All kinds of network connectivity are also on board - GPRS, EDGE and 3G with HSDPA. Finally you can also use the memory card slot on the Samsung INNOV8, which combined with a suitable reader can grant you the best transfer rates.
A great browser gets even better with optical trackpad
Symbian browser and full-ranging connectivity options make sure we're set for a nice ride browsing the internet on Samsung i8510.
The handset offers great page rendering and works in both portrait and landscape mode. Zoom levels are easily controlled and font size can be adjusted to fit as much content as possible on a single page. On a screen this size you can bet that is still remains readable.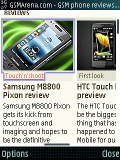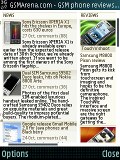 The web browser has great page rendering
A mini-map can also be activated to help finding your way around large sites where lots of scrolling is required.
The Symbian web browser has full Flash and Java support making all kinds of online content accessible. Watching Flash videos is not a problem, which means that you can access the desktop versions of YouTube and the likes trouble-free.
The virtual mouse cursor earns the browser another point. It is easy to control and generally works great. It can be controlled with the optical trackpad as in most laptops. You can scroll by pushing the mouse pointer to the page borders.
The touch-controlled virtual mouse makes web browsing much more natural and is the highest we've seen a Symbian device go.