Roaring V8 engine
Samsung i8510 INNOV8 review: Roaring V8 engine

Time-management supreme
It is essential for a smartphone to be able to help you organize your time. Luckily Symbian developers were paying attention and gave the organizer their best effort.
Samsung i8510 INNOV8 has great time-management skills and, if by some rare chance you happen to miss something, there is plenty of third party software available to take care of it.
The calendar of the INNOV8 has the typical three different view modes - monthly, weekly and daily - and four types of events available for setting up - Meeting, Memo, Anniversary and To-do. Each event has unique fields of its own, and some of them allow an alarm to be activated at a preset time to act as a reminder.
Mobile office is also very well geared, with preinstalled applications able to open Word and Excel, PDF and PowerPoint files seamlessly. Unfortunately, editing documents is not supported by the included Quickoffice version. If you would like editing enabled you will have to get the paid upgrade.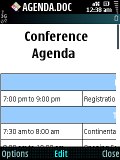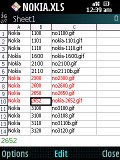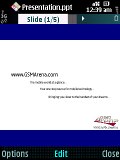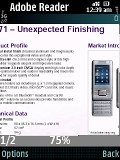 The office package: everything but document editing
The other office application is ZIP manager, which allows extracting archived files straight on your phone.
Business card scanners are not something new on mobile phones, but the scanner preinstalled on the Samsung INNOV8 is among the first document scanners implemented in a handsets, and it's quite good too. We saw the same application back on the Samsung Omnia and we are still impressed by its capabilities.
The card scanning is impressively accurate and works in several languages. It also shoots automatically once it detects a business card within the frame. All the contact details can also be stored in your Phonebook should you choose so.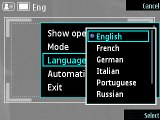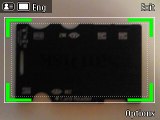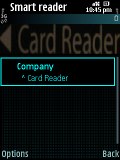 The text/card scanner is intuitive and overall, an excellent application
On board the INNOV8 there is also a nice unit converter, calculator and voice recorder, as well as the Notes application.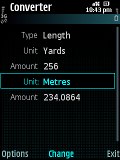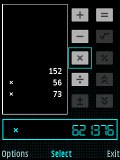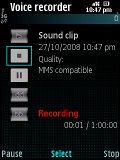 Unit converter, calculator and voice recorder
The alarm application allows you to set up as many alarms as you want, each with its own name, trigger day and repeat pattern. If this seems too complicated, there is a quick alarm setup where all you do is set the time and you're good to go. This is quite convenient for, say, setting up your wake-up alarm.
A bunch of third-party software
The Samsung INNOV8 comes preinstalled with several intriguing third-party applications. First of all there's the Java-based CNN News reader. It offers access to the world's hottest news through a nice graphical interface that not only looks good, but also acts fast.
For those of you that would like to use the big INNOV8 screen for imaging, Samsung have preinstalled the Digital Frame application - much like the one on the Samsung Omnia.
Besides displaying a slide show of images in landscape mode, the app also offers a total of 5 different clock/date styles. You can have music playing in the background too and, if needed, event alerts such as incoming message or alarms can be suppressed when Digital Frame is running.
The most attractive kind of animation is the Photo River, where the display shows a stream of photos flowing from right to left.
And finally, there's the Collins PowerDic, which is a two-way dictionary in English, Spanish, French, Portuguese, German, Italian, Russian, and Ukrainian.
Some nice games
Samsung i8510 comes with two nice games preinstalled. At least ours did, but you should bear in mind that this kind of stuff is strictly market dependant. The titles in question are FIFA 2008 sports simulator and the Asphalt 4 racer.
And having in mind that this is a Symbian handset, you are by no means limited to those games only. There are plenty of games to download and there should be at least several that you will enjoy. So, the INNOV8 might not be a dedicated gaming handset but its ability in this area shouldn't be underestimated.
GPS does fine
Samsung i8510 INNOV8 has a built-in GPS receiver of relatively good sensitivity. There are a couple of preinstalled programs that go with it but none of them offers voice-guided navigation. Once again, this is a strictly market dependant part of the preinstalled content and we guess Samsung Mobile Navigator will be available in most areas (it was available on our first test unit). You can download it additionally too.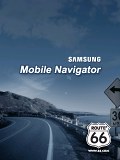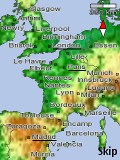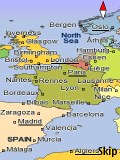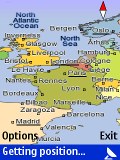 Samsung Mobile Navigator by Route 66 was present only on our pre-release INNOV8 unit
The GPS Data application gives you raw satellite data (coordinates, time, latitude, etc). It also allows you to setup basic navigation routes - either to an already stored Landmark or to a set of GPS coordinates. It doesn't offer a map or voice guidance but, as we said, it's pretty basic. It also integrates a Trip Meter, which has some pretty self explanatory functionality.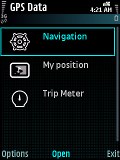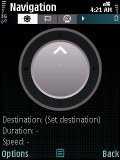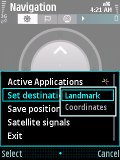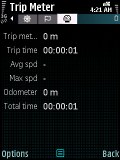 The GPS Data application: navigation screen o adding a destination o the trip meter
The well familiar Landmarks application allows you to setup various points of interest (obviously called Landmarks) by either storing your current GPS coordinates with a name, description and category or by picking a random spot on the map (provided by the Route66 Samsung Mobile Navigator app). You can also preview a previously stored Landmark on the Route66 map.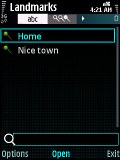 The Landmarks application for managing personal points of interest
The GPS+ application is the A-GPS information downloading utility.
Then there's the Gypsii application that offers a host of location-based communication services.
And finally, you have a choice of two third-party Maps applications - Google Maps and Yahoo! Go.
Unlike Google Maps, Yahoo! Go delivers everything in one single application - web search, local news and weather information, traffic information, city guides, maps, routing and driving directions.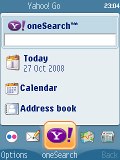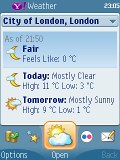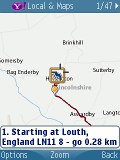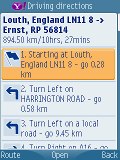 Yahoo! Go: home screen • weather • route on map • driving directions
Final words
The Samsung i8510 INNOV8 spec sheet is spectacular. It would hardly make a big splash as the Nokia N95 back in the day but that doesn't mean the INNOV8 is any less worthy.
It's just that only a couple of years ago the one crowned as the top device could afford to bask in its glory at least for a while. These days the next big thing is always just around the corner.
Still the Samsung INNOV8 stole the spotlight from the Nseries in second half of 2008 as easy as a piece of cake.
The INNOV8 may outperform its Symbian siblings over at Nokia camp by sheer specs, but these chaps can still put up a nice fight. What's simply a mobile OS to Samsung, is an entire software package complete with tailor-made enhancements to Nokia.
Samsung should be aware they have some serious Symbian catching up to do and while they are on it, Nokia successfully provides users with a host of add-on services such as N-Gage and Ovi, and a suite of competitive applications such as Nokia Maps, Search, and the WLAN scanner just to name a few.
Samsung have successfully topped that with their INNOV8 specs going through the roof and while they keep the head start, they will reap their well-deserved benefits. In the end, the Samsung INNOV8 is as high as we've seen a non-touch Symbian go in terms of media, so why not just enjoy.