First look
Samsung I8530 Galaxy Beam preview: First look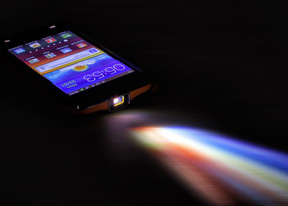 This article is outdated. We have already published a full review.
User interface and performance
The Beam is powered by the all too familiar combo of Gingerbread 2.3.6 and TouchWiz 4.0.
You can have up to 7 homescreen panes to fill with widgets and shortcuts. A pinch on any homescreen zooms out to an aggregate view of all homescreen panes, which can be rearranged, deleted or added.
Widgets, shortcuts or folders are pulled onto the homescreen from a taskbar at the bottom of the screen.
The lockscreen of the Galaxy Beam has the usual integration of missed events with shortcuts to the relevant apps.
The only new thing about the notification area is the integration of the projector's Quick Pad feature. As usual, TouchWiz provides the handy quick toggles for Wi-Fi, Bluetooth, GPS, Silent mode and auto-rotation.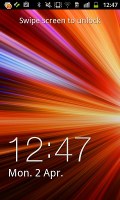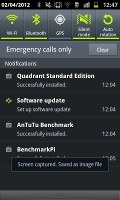 Lockscreen • Notification area
The app launcher is very similar to the homescreen - you can create folders to go with your shortcuts and you can add, remove and rearrange pages just like you would homescreens. If you prefer, you can choose List view instead of the default Grid view.
The dual-core 1 GHz processor handles the UI perfectly and you'll go about your business glitch-free most of the time.
Performance
The Samsung I8530 Galaxy Beam runs on two Cortex-A9 cores, clocked at 1 GHz, and has 768 MB of RAM at its disposal. The Mali 400 GPU is the final bit of the ST-Ericsson NovaThor chipset, which we came to know from the Samsung Galaxy S Advance.
The Beam is a reasonably powered smartphone that will hold its own even against superior competition. In day-to-day use you will hardly feel that big of a difference between it and a Galaxy S II.