First look
Samsung I8530 Galaxy Beam preview: First look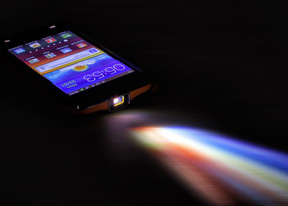 This article is outdated. We have already published a full review.
Camera and video recording
The Samsung Galaxy Beam sports a 5 MP autofocus camera, capable of taking photos at maximum resolution of 2592 x 1944 pixels. There's a single LED flash, as well as a front-facing 1.3 MP camera.
The camera interface looks pretty familiar with two shortcut bars on each side of the viewfinder. On the right you get the still camera / camcorder switch, a virtual shutter key and the gallery shortcut (which is a thumbnail of the last photo taken).
The Beam produces nice-looking stills with good amount of detail, nicely-tuned colors and low noise. Here are the samples below.







Samsung Galaxy Beam camera samples
The short shot-to-shot time came as another pleasant surprise to us.
The Samsung Galaxy Beam shoots 720p videos at 30 fps. The video camera interface is identical to the still camera, using the same customizable taskbar on the left with four shortcuts. You can use the front camera to record video too, but at a lower resolution.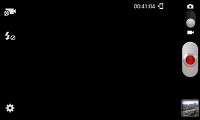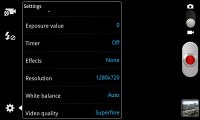 Camcorder UI
Here's a 720p video sample, captured with the Samsung Galaxy Beam.
Also, here's an untouched 720p@30fps sample (16.5MB) straight from the phone.
Conclusion
If nothing else, this is a phone with above average battery backup and an extra powerful flashlight. Now, that's if you're less than impressed with the projector capabilities. To be honest though, being able to share videos and images is not a bad feature to have - and we mean share them instantly. You can watch movies with friends or play slideshows of your photos with any midrange smartphone with an HDMI port but what about the times when and places where there isn't a TV set around?
On top of that, the Galaxy Beam is, or rather, has the potential to be a reasonably capable presentation tool. When Samsung hopefully have the software ironed out, the Beam will be ready to deliver presentations. All you will need is a good enough stand to fix it to make sure swipes and onscreen gestures don't give the audience a headache.
On the other hand, you don't need any extra equipment to enjoy a movie or a slideshow on your living room wall - nothing more than good enough blinds.
Projector-phones are a long way from becoming mainstream, but the concept is not entirely without a future. Granted, the original Samsung I8520 Galaxy Beam was a fiasco but Samsung are taking a different approach this time around. The successor is a downgrade and that seems to make sense. A niche device hardly needs all the latest technology anyway.
At least the projector got an upgrade. It has a 15 lumen bulb, instead of the 10 lumen unit of its predecessor and that might be worth more than an AMOLED screen or a slimmer waistline to potential owners.
What the Beam needs at this point is some finishing touches to the projector software. Even now though, it does a reasonably good job of showing movies and slideshows.
What we came to realize doing this preview was that the Samsung I8530 Galaxy Beam is more of a smartphone for the young than an essential corporate tool. Its projector simply seemed better suited for casual multimedia sharing than pro tasks. That's why we believe pricing is what will ultimately decide the faith of the new Galaxy Beam - if teenagers and twenty-somethings are able to afford it, the smartphone/projector concept might finally gain some traction.