A whole new galaxy
Samsung I8700 Omnia 7 review: A whole new galaxy

Games you can play with friends
Xbox Live is at the heart of the Games hub. It carries over many features from the Xbox – from your avatar to your scores and achievements. The Spotlight feature is available too (it shows info on new stuff) and also Requests – which shows you game invites from your friends.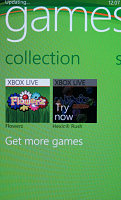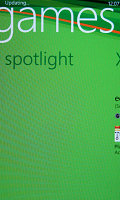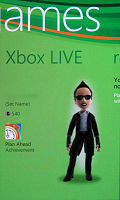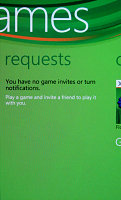 Games hub and Xbox Live integration
Anyway, the games themselves are housed in the Collection section. Nothing much to see here, the installed games are arranged in a square grid and there's a Get more games shortcut, which launches the Marketplace.
Not all games support Xbox Live – the ones that do are in the corresponding section in the Marketplace. We didn't have many games to test, but the beefy hardware requirements ensure that Windows Phone 7 handsets won't have any problems with complex games.
Final words
Windows Phone 7 left us with mixed feelings, to say the least. WP7 devices have been designed around the OS, not the other way around. So perhaps, it's best we look at the whole picture.
The Samsung I8700 Omnia 7 is our first encounter with WP7-grade hardware and we walk away impressed. Microsoft has imposed some tough restrictions on what qualifies as WP7-ready. We're talking top of the line processing power, large screens, powerful imaging and such.
This means that choosing between two Windows Phone 7 mobiles will be hard – they match on so many points. It will be the special perks that each manufacturer can provide that will tip the scales one way or another.
In the case of the Omnia 7, Samsung's one-of-a-kind 4" SuperAMOLED is a major incentive – the only other phone to offer it is the Samsung Galaxy S. There are some good LCDs around but they don't quite match the vivid picture and superior black levels of the SuperAMOLED tech.
Samsung deserves a pat on the back for the metal Wave-style body and the excellent 5MP camera too. To summarize the review in one sentence – the hardware is perfect, it's the software that lets the phone down on occasion.
Keep one thing in mind though – Microsoft has done the hard part. They've gotten manufacturers excited enough about Windows Phone 7 and obviously has been convincing enough.
Just think how many Android phones and also iPhone 3G and 3GS have been given a new lease of life with an OS update. The same could (and we're guessing will) happen to Windows Phone 7 devices like the Samsung I8700 Omnia 7 – an update from Redmond will cure all those aches in the Cons section of the review. For example, reportedly copy and paste will be added in early 2011, and Microsoft is working on others as well.
Truth be told, right now there are a few things missing. And our comment section is open for business. Just take a moment to think. Android and iOS didn't quite have all the features they do now from day one, and yet they are doing fairly well on the market (that's putting it mildly).
From the current crop of OSes, Windows Phone 7 is closer to iOS than Android. It takes the "just works" approach and it's Microsoft that dictates the major decisions about the OS. Android is more decentralized, and if you know what you're doing, can be tuned and transformed to the user's (or maker's) taste.
So, this is what you can expect from the Samsung I8700 Omnia 7 – it's breaking new ground, much like the first iPhone, but lacks some features and flexibility. But unlike the first iPhone, the Omnia 7 has very few flaws in the hardware department: a large, hi-res screen, fast hardware, capable camera and so on.
Restrictions from Microsoft have another positive side too – it gives developers a common target to aim for and guarantees that each and every app they create will run trouble-free on each and every WP7 phone. Apps were critical for the iPhone's success and are still important for every other mobile OS out there. Plus Samsung Omnia 7 and its likes will have no problems with OS fragmentation (or screen resolution) as Android does.
But going back to this specific sample in the WP7 lineup, the Omnia 7 is a premium phone with a beautiful OS. It obviously has issues that can (and must) be fixed mid-flight. And since it's our job to rate phones for what they are, not what they can be, we have no problem saying it: there are better phones than the Samsung Omnia 7.
So, don't be rushing to the nearest store just because it may be the next big thing. Make sure to give it a test drive instead – and see if it's the right one for you. Then of course, you don't need anyone's permission to go ahead and call it crap. Just try to sound credible.