A whole new galaxy
Samsung I8700 Omnia 7 review: A whole new galaxy

Camera is great 5MP snapper
The Samsung Omnia 7 has a 5MP autofocus camera and maximum image resolution of 2592 x 1944 pixels. It is accompanied by an LED flash.
The camera UI is pretty simple – you have your viewfinder and some controls on the right. From top to bottom they are the still/video camera toggle, virtual zoom buttons and an extended settings menu.
We rarely get surprised by camera UI but Microsoft has managed to pull out another nice UI stunt here as well. A side slide to the right opens the last picture shot and a slide on to the right brings back the camera's live view instantly.
Here's a video of the whole thing so you can see what it's like:
The settings include everything from flash and auto-focus modes, to image settings (contrast, white balance, etc.), effects, shake reduction, Wide Dynamic Range and other options.
Interestingly the camera key will wake the phone with a single press – that is unlock it and start the camera. But that feature cleverly doesn't trigger if there's something in front of the proximity sensor – like the insides of your pocket or purse.
An interesting option is geo-tagging – we've seen geo-tagging before, but Omnia 7 has the option to strip that information before uploading the photo to an online service. That way, photos in your personal collection can be geo-tagged without worrying that anyone on the Internet can see your home address.
The image quality of the Samsung Omnia 7 is pretty impressive for the 5MP range. There's some noise, but no color noise and the noise reduction algorithms find a good balance between preserving details and removing noise. Even foliage comes out OK.
Macro shots were really impressive – the Omnia 7 managed to focus from up close and the amount of captured detail is amazing.




Samsung I8700 Omnia 7 camera samples
We also snapped some comparative shots with the Samsung Galaxy S. Here are the results.





Samsung Omnia 7 • Samsung Galaxy S • Omnia 7 • Galaxy S
Synthetic resolution
We also snapped our resolution chart with the Samsung I8700 Omnia 7. You can check out what that test is all about here.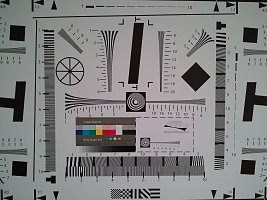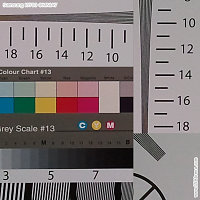 Samsung I8700 Omnia 7 resolution chart photo • 100% crops
Video recording
The video camera interface is identical to the still camera one and has plenty of features too. You can calibrate contrast, saturation and sharpness, change the white balance or exposure compensation and also add image effects. You can use the LED as a video light too.
You can record in two resolutions – VGA or 720p. There is no option to record at a lower resolution for, say, an MMS. Not that we found an option to add a video to MMS though.
The 720p video was less impressive in practice than it is on paper. Videos are recorded in .MP4 file format but the bitrate doesn't seem enough. The amount of captured detail is not stellar and there are easily noticeable compression artifacts (or possibly upscaling artifacts). The frame rate hovers around 23 frames per second, tough it drops when there's heavier motion in the scene, which results in some choppiness.
We also noticed that in the beginning of each video, the autofocus would spend a second or two hunting back and forth for the correct focus point, resulting in short moments of blurriness at the beginning of videos.
Here's a video sample uploaded to YouTube:
And here's one Samsung I8700 Omnia 7 video sample, untouched by YouTube compression: 720p@25fps
Connectivity is frustratingly limited
Samsung recently have a good track record with connectivity and they didn't disappoint. Quad-band GSM/GPRS/EDGE are a given, but there's dual-band 3G with HSDPA and HSUPA too. Wi-Fi b/g/n is supported, which makes the Omnia 7 compatible with a wide range of Wi-Fi networks.
Bluetooth is "just" v2.1 (we were expecting v3.0) but other than that wireless connectivity is well supported.
Transferring files between a computer and a Windows Phone 7 mobile could be a problem. Microsoft's decision to cut out mass storage functionality mean that you need the Zune app on your computer to easily transfer files (the odd way that WP7 handles memory cards wouldn't have helped either, even if the Omnia 7 had a card slot).
It allows syncing over USB or Wi-Fi and this is the only option to transfer files directly from your phone to your computer. Or you can use SkyDrive to transfer files – a free Microsoft service that gives you 25GB free cloud storage. You can even have your photos automatically uploaded as soon as you snap them.
Internet Explorer is great, save for lack of Flash and Silverlight
Internet Explorer in all its incarnations has caught a lot of flack for being clumsy and outdated. But the new version is great and, like Internet Explorer 9 on the desktop, it will change the way people think of IE. It's not all perfect but most people will use it without missing a thing.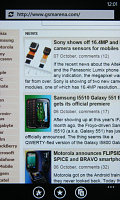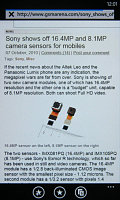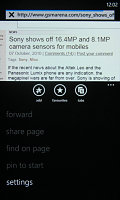 Browsing around GSMArena.com with the new Internet Explorer
Page rendering is perfect and fast, as are panning and scrolling. For zoom, you have double tap and pinch zoom. As an extra guide for navigation there's the Find on page option. Flipping the phone in landscape orientation clears the onscreen controls and gives the whole screen to the webpage.
Multiple tabs are supported and the browser didn't break a sweat juggling several of them. This is of course thanks to the high hardware specs – which are guaranteed for each Windows Phone 7 device.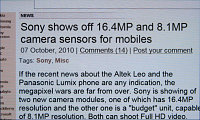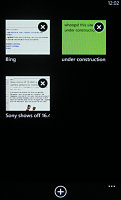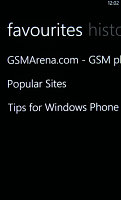 Landscape mode • multiple tabs are supported • favorites and history
History and favorites are supported and you can even pin a favorite site to the homescreen. Another handy option is to let Bing suggest sites as you type in the URL and Internet Explorer will also suggest sites from the history.
There are some things missing though – Flash is one, but we were at least hoping for Silverlight, which didn't work either. Saving files is problematic too – you can only save files that the OS can handle. Text reflow is another feature we missed – if you zoom in as close as possible to get some fonts readable, you'll have to pan left and right to read the text.
Still, the Samsung Omnia 7's screen is among the biggest on a mobile phone and with a high enough resolution.
We're curious to see if and when alternative browsers will appear in the Marketplace – Opera Mini is always welcome and maybe something with Flash would be nice too.
Check out the latest mobile Internet Explorer in action: