Going to the movies
Samsung i8910 Omnia HD review: Going to the movies

Telephony: Smart dialing would have been nice
We didn't experience any problems with the in-call performance of Omnia HD. Reception levels are good on both ends of calls, the earpiece is loud enough and there was no interference whatsoever.
Unfortunately voice dialing is not an option with the Samsung i8910 Omnia HD. Smart dialing is another thing missing and it is even more crucial. It is hardly a deal-breaker since with no keypad present you still need some extra clicks, but we find it quicker than reaching for the phonebook every time.
Thanks to the built-in accelerometer you can silence an incoming call on the phone by simply flipping it over. By the way that works for snooze alarms too.
Thanks to the proximity sensor the screen turns off automatically while close to your cheek. There are four on-screen buttons available on screen during calls - mute, hold, loudspeaker and end call. Form the options menu you can find more settings like lock screen and keys, switch to video call, new call and etc.
We also ran our traditional loudspeaker test on Samsung i8910 Omnia HD. The handset didn't perform too impressively but still scored a Very good mark meaning we haven't seen too many louder handsets. You might still want to keep a closer eye on it when you are in noisier environments, though.
| | | | | |
| --- | --- | --- | --- | --- |
| Speakerphone test | Voice, dB | Pink noise/ Music, dB | Ringing phone, dB | Overall score |
| Apple iPhone 3G | 66.1 | 62.1 | 71.7 | Below Average |
| Nokia 5800 XpressMusic | 75.7 | 66.5 | 68.5 | Good |
| Samsung M8910 Pixon12 | 75.7 | 72.8 | 77.3 | Very Good |
| HTC Magic | 70.3 | 69.5 | 79.3 | Very Good |
| Samsung i8910 Omnia HD | 74.3 | 74.0 | 78.7 | Very Good |
| HTC Touch HD | 77.7 | 73.7 | 76.7 | Excellent |
Messaging is all fine, but for an email wizard
The messaging department of the Omnia HD is practically identical to the one found on its Nokia touch contemporaries.
The Samsung I8910 Omnia HD supports all common message types - SMS, MMS and email. They all share a common intuitive editor which by this point should be quite familiar to everyone. When composing an SMS, a counter is displayed of characters left from the limit of 160. An indicator in brackets shows the number of separate parts the message will be divided into for sending.
Once you insert some multimedia content, or an email address is inserted as recipient, the counter is replaced by a data counter showing the size of your email.
The first difference that Samsung I8910 Omnia HD introduces is to omit the dedicated editor for instant recording of audio messages. We weren't big fans of it anyway so we aren't going to pretend that we miss it much.
The email client is really nice, able to meet almost any emailing needs. Unfortunately the Omnia HD doesn't support the easy setup we found in the latest Nokia handsets so you need to input all your account settings manually. It's not that you configure this every day but it's nice when the manufacturers save you some work, especially when the work in question involves typing on a touchscreen. Surely this can't be too difficult a feature for Samsung to implement.
Multiple email accounts and various security protocols are supported, so you can bet almost any mail service will run trouble-free on your Samsung I8910 Omnia HD.
The client can download headers only or entire messages, and can be set to automatically check mail at a given interval. A nice feature allows you to schedule sending email next time an internet connection is available. This can save you some data traffic charges since you can use the next available WLAN connection instead.
There is also support for attachments and signatures and it seems that Samsung have pretty much thought of everything. And with a screen resolution like this, reading emails is an absolute pleasure.
Here might just be the right time to mention the input options on the Samsung I8910 Omnia HD. The handset offers a standard alphanumeric on-screen keypad in both portrait and landscape mode.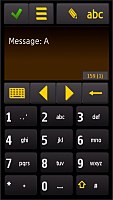 Alphanumeric keypad is here for the traditionalists
Of course the full landscape QWERTY is also onboard to solve all your problems. It has a four-row layout so you need to use the function key for accessing the numbers and symbols, but that's no biggie.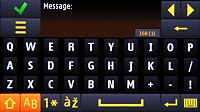 The large screen makes up for a comfortable virtual QWERTY keyboard
Finally, the Samsung I8910 Omnia HD offers handwriting recognition, which did a rather decent job in recognizing almost all the letters we scribbled in the box. You can improve its performance by taking the handwriting training and showing the handset how you write each different letter.
Nothing to complain about the file manager
The file manager is yet another aspect where the pedigree counts big time. With the soft keys at the bottom you might almost forget that you are looking at a new device.
The Symbian file management system has been top notch for quite a while now, and it's difficult to imagine what could be changed about it. The application can basically do anything you can think of with your files - moving, copying renaming, sorting or sending - you name it. You can also password-protect your memory card if you see fit.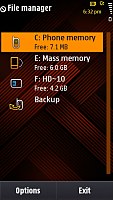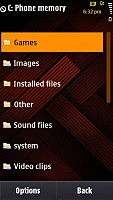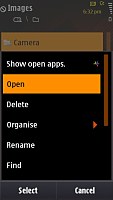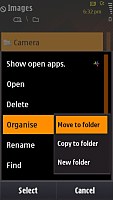 The file manager is fully functional
The option to search for a specific file or directory is also available on the phone. All you need to remember is a part of the desired name and where it was located (phone memory, mass memory or memory card) and the Omnia HD will find it in no time.