Going to the movies
Samsung i8910 Omnia HD review: Going to the movies

FM radio - simple, easy to use and functional
The FM radio on the Samsung i8910 Omnia HD has a really neat and simple interface and can automatically scan and save the available stations in your area. It also has RDS support and automatic scanning for an alternative frequency. This means that if you travel the Omnia HD will take care of auto-switching to the frequencies of your selected radio station.
There is also room for six shortcuts for your favorite stations on the radio app screen. The handset also supports radio broadcast recording and of course can be minimized to play in the background.
Back in the day Samsung announced that Omnia HD will have a built-in FM transmitter and that created a lot of commotion among users. The feature was not present on our retail unit and it wasn't present on our pre-release samples as well though Samsung announced it at first. When we went to research that, it turned out that any mentioning of an FM transmitter has also gone missing from Samsung web sites as well.
Decent audio output
The Omnia HD demonstrated passable audio output, getting commendable scores on several of the readings in our traditional audio quality test. We have certainly seen better performers but things aren't hopeless with the Samsung i8910 either.
The most notable problem with the Omnia HD audio quality is its shaky frequency response and cut-off bass frequencies. The intermodulation distortion is also slightly higher than average.
On the positive side the noise level, the dynamic range and the stereo crosstalk readings are excellent. The total harmonic distortion extremely low value is also commendable achievement. And here go the results so you can see for yourselves.
| | | | | | | |
| --- | --- | --- | --- | --- | --- | --- |
| Test | Frequency response | Noise level | Dynamic range | THD | IMD + Noise | Stereo crosstalk |
| Samsung i8910 Omnia HD | +1.29 -2.74 | -87.6 | 86.6 | 0.0023 | 0.255 | -85.2 |
| HTC Magic | +0.21 -2.20 | -85.6 | 88.8 | 0.025 | 0.220 | -86.0 |
| Samsung S8000 Jet | +1.01 -2.03 | -87.9 | 87.0 | 0.015 | 0.060 | -85.9 |
| HTC Touch HD | +0.20, -2.29 | -86.7 | 89.2 | 0.024 | 0.253 | -86.1 |
| Nokia 5800 XpressMusic | +0.09, -0.77 | -92.2 | 92.1 | 0.013 | 0.297 | -75.0 |
| Nokia N97 | +0.04, -0.27 | -90.7 | 90.7 | 0.0048 | 0.896 | -89.5 |
| LG GC900 Viewty Smart | +0.13, -2.20 | -92.3 | 92.4 | 0.0019 | 0.120 | -91.9 |
| Apple iPhone 3GS | +0.01, -0.05 | -92.1 | 92.1 | 0.0035 | 0.011 | -95.0 |
| Sony Ericsson W995 | +0.04, -0.40 | -89.1 | 89.0 | 0.0033 | 0.048 | -88.7 |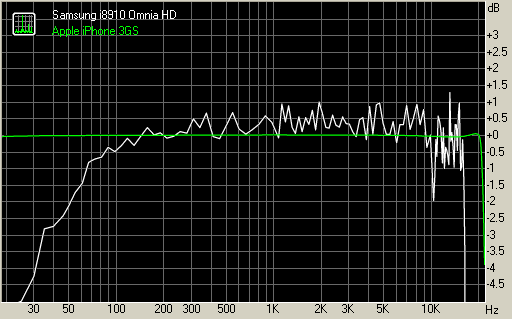 Samsung i8910 Omnia HD vs Apple iPhone 3GS frequency response graphs
You can learn more about the whole testing process here.
Connectivity all covered
Smartphones are usually well-heeled in terms of connectivity and Samsung i8910 Omnia HD makes no exception. Perfectly prepared, it can handle kinds of data transfer that a user might want it to.
Both USB and Bluetooth are version 2.0 and the latter naturally also sports A2DP. Wi-Fi with UPnP support is also at hand. There is no shortcut key for the Wi-Fi manager, but it can be easily found in the Connectivity menu and connecting to a WLAN network is two taps away. DLNA is also present for sharing digital content to other devices or computers on the local network.
Besides that all kinds of GSM-based network connectivity are at the user disposal - GPRS, EDGE and 3G with 7.2 Mbps HSDPA and 5.76 Mbps HSUPA. The quad-band GSM/GPRS/EDGE connectivity makes the handset perfectly capable of global roaming.
The Omnia HD has a microSD memory card slot, which can can take up to 16GB cards. The microUSB port is pretty much standard connectivity feature on all recent Samsung handsets, and the 3.5mm audio jack completes the list by also doubling as a TV-out port, as well.
The TV output works well, though not in HD of course. The cable is a regular RCA one and all HD content that you play on the phone gets scaled down - first off it goes down to the Omnia screen resolution and then that signal gets upscaled to the TV resolution. So you can guess scaling is nothing so impressive in terms of quality. But still, you can watch all your videos fullscreen and it handles superbly the screen auto rotation - the content on the TV screen always has the right landscape orientation.
Web browser has Flash video and all the works
The Samsung i8910 Omnia HD web browser is a fully functional application that would have used somewhat more user-friendly interface. The Flash support is cool and so is the kinetic scrolling.
To zoom in and out of a page you drag a small slider in the top right corner. The actual zooming is a bit unresponsive and quite slower than we would have liked it to be. To avoid zooming this way at all is by double-tapping a specific part of the web page. Zooming that way is sometimes a hit and miss thing as the web browser fails to fit the text on screen.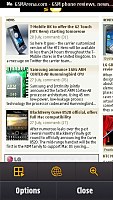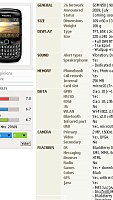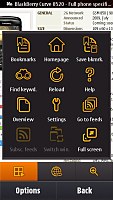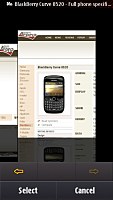 The web browser needs some polishing
There is a Page Overview option, which is a sort of a minimap of the webpage that facilitates navigation.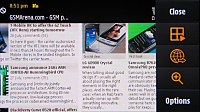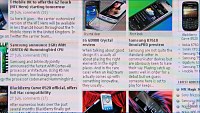 Going to landscape is automatic • Fullscreen mode
At least the page rendering algorithm is quite good, making all the pages look as if browsed from a desktop computer. The high resolution is also a welcome bonus here, as it allows more content to fit on the screen.
Finally, the web browser has support for both Flash and Java, which means that you can enjoy flash videos straight from your browser without having to use the mobile versions of sites like YouTube or a dedicated client applications.
While certainly capable, the Symbian S60 5th edition web browser could certainly use a bit of fine tuning.