Fair warning, leaked Samsungs ahead - two or three of them, deending on how you count. There's a new Android for AT&T, a dual-SIM phone coming to Europe and China and one Samsung that tacks on yet another name to its list of pseudonyms.
First up is the Samsung i897 - it has specs very similar to the Samsung I9000 Galaxy S. It runs Android 2.1 on a Snapdragon CPU, likely clocked at 1GHz, though it hasn't been confirmed yet.





The Samsung i897 has Galaxy S like specs
The Samsung i897 has a 4-inch AMOLED screen, (though we're not sure if it's Super or vanilla AMOLED) and packs a 5MP camera on the back. Alas another thing we don't know is whether it has 720p video recording capabilities or not.
Next is the Samsung B7722 / B7702 dual-SIM phone. The two are basically the same phone, except that the B7702 is headed to China and the other one is going to Europe. The duo features both 2G and 3G connectivity with HSDPA (the Samsung B7702 would use TD-SCDMA instead of "normal" 3G).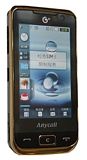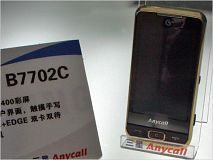 The Samsung B7702/B7722 dual-SIM phone
The Samsung B7722 / B7702 features a 3.2-inch touchscreen with the odd resolution of 240x432 pixels and a 5MP camera, a microSD card slot, Wi-Fi and social networking. The Samsung B7722 should hit Europe on June 10th for 354 euro sans VAT.
Finally, the Samsung S3370, which already has more alternate identities that an international spy was launched in India under the name Samsung S3370 Star Nano 3G. It should be available right now for Rs. 7,320 (157 US dollars or 127 euro). For that price, you also get a 2GB microSD card and a leather pouch in the package.
Source: AndroidGuys, PCPop, Bluetooth.org, Promobility, SamsungHub
S
Dave Jones, Hey Shill, Super Amoled are the bench mark of the industry. Nokia doesn't hold a candle in terms of display technology. As for the rest of the ad hominem nonsense. please don't let your ego go on ad nausuem.
?
What do u mean screen quality is poor, yes poor in the low end phones but you will find that in every manufacturer. On the high end phones no other manufacturer comes close to Samsungs AMOLED screens the resolutions is amazing and the 720p videos sho...
r
yo man, go get some sources... lets see what kind of facts you can pull out. so far you haven't backed up anything you've stated.
ADVERTISEMENTS