From outer space
Samsung I9000 Galaxy S review: From outer space

Excellent phonebook
A typical Android smartphone, Samsung I9000 Galaxy S has a phonebook with massive functionality and practically unlimited capacity.
The handset displays the phone memory, SIM-stored and all Google contacts in the phonebook. There is a dedicated setting for that, so you really can have all of your contacts gathered in one place. You can search the entries by either flick-scrolling the list or using the alphabet scroll at the side of the screen (courtesy of Samsung and the TouchWiz UI).
With Android 2.1, the Galaxy S packs the new Quick contacts feature. It lets you use the contact photo in the phonebook and call, text, or email the person with a single click.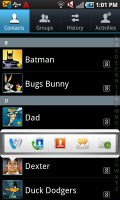 Quick contacts come with Android 2.1
Thanks to Android 2.1, there is also multiple account support for email and contact synchronization, including Exchange accounts.
There are many info fields that you can assign to each contact, but it still remains perfectly organized. You have all the types listed (numbers, email addresses, etc) and there's a plus sign on the right - clicking it adds another item of that type. Pressing the minus sign under it deletes the unneeded field.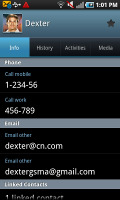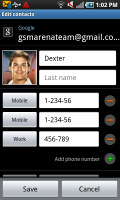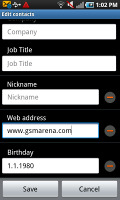 Checking out and editing a contact's details
Samsung have added another cool feature to the phonebook, which is also available in the Bada OS. In the main contact list, a swipe to the right on a name will dial the contact's default number, while a swipe to the left will start the New message interface. The side-sweep thing works in other lists too where you have names or numbers.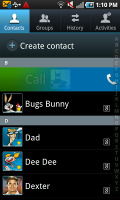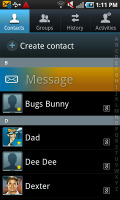 Swiping on a contact's name or number in the log will start a call or launch the message composer
Great telephony
The Samsung I9000 Galaxy S caused us no trouble during calls. There were no reception issues or in-call voice quality drops.
Smart Dial is available and works like a charm – the implementation on the Galaxy S searches both contact numbers and names unlike the one on the Galaxy Spica, which went worked with numbers only.
Thanks to the proximity sensor, your screen will automatically turn off during a call. The available options during a call include taking a note, using the keypad, muting, holding the call or adding another call to this conversation.
The call log is the tab next to the dial pad. It shows all the dialed, received and missed calls in one list sorting your call history by contacts.
We shot a demo video of the Samsung Galaxy S contacts management and telephony features. We're highlighting the swipe-to-call and swipe-to-sms feature in the phonebook, the fluid contacts scrolling, the intelligent smart dialing and the handy calls log options. The Buddies now homescreen widget also gets featured. It's well worth the look.
We also ran our traditional loudspeaker test on the I9000 Galaxy S. It snatched a Below Average score, meaning missed calls are likely in noisier environments. More info on our loudspeaker test as well as other results can be found here.
| | | | | |
| --- | --- | --- | --- | --- |
| Speakerphone test | Voice, dB | Pink noise/ Music, dB | Ringing phone, dB | Overall score |
| Samsung I9000 Galaxy S | 66.6 | 65.9 | 66.6 | Below Average |
| Samsung I5700 Galaxy Spica | 66.6 | 62.1 | 75.7 | Average |
| Google Nexus One | 69.9 | 66.6 | 79.1 | Good |
| HTC Hero | 76.7 | 71.9 | 77.7 | Very Good |
| HTC Legend | 78.0 | 74.3 | 79.7 | Excellent |
Full-featured messaging
The SMS and MMS messaging section is quite straightforward and simple - there are no folders here, just a new message button. Under that button is a list of all your messages organized into threads.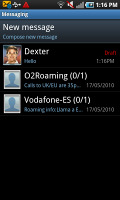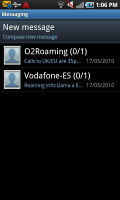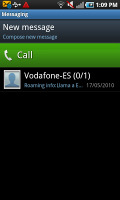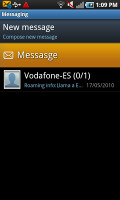 The Galaxy S messaging department and swipe functions
Swiping on a message header will do exactly the same as in the phonebook – a left swipe starts a new message, while swiping to the right will start a call.
There's application-specific search that lets you quickly find a given message among all your stored SMS and MMS.
To add message recipients, just start typing the corresponding name or number and choose from the contacts offered.
Any unsent messages and drafts are marked with a red "Draft" label. What we really like is that each thread keeps the text in the tap-to-compose box even if you exit without sending it or explicitly save it. The "undelivered messages" section has been removed.
If you wish to manage a specific message in the history, you can press and hold a message to bring up options such as edit, forward and delete as well as view details and copy message text.
A press-and-hold in the tap-to-compose area gives you access to functions such as cut, copy and paste. You are free to paste the copied text across applications like email, notes, chats, etc. and vice versa.
Converting an SMS to MMS is logical and easy. When you add multimedia content to the message, it is automatically turned into an MMS. You can just quickly add a photo or an audio file to go with the text or you can choose to go into a full-blown MMS editor, depending on your needs.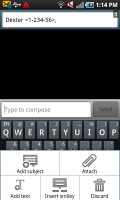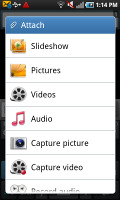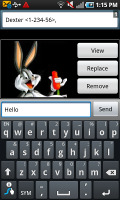 Adding any multimedia content automatically turns an SMS into an MMS
Moving onto email, the Gmail app supports batch operations, which allows multiple emails to be archived, labeled or deleted. Multiple Gmail accounts are also supported.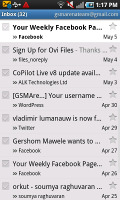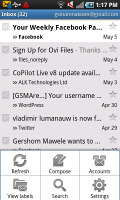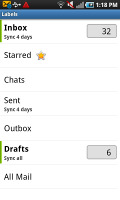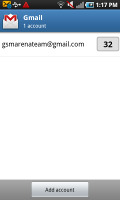 The Gmail should be pretty familiar to everyone by now
There is also a generic email app for all your other email accounts and it can support multiple POP or IMAP inboxes. You have access to the original folders that are created online, side by side with the standard local ones such as inbox, drafts and sent items.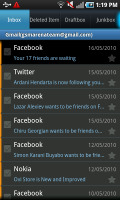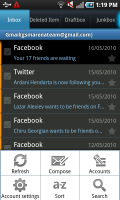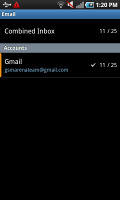 The standard email app also does a good job • the combined inbox
The Galaxy S also sports a combined inbox, which brings together all your mail in a single folder so you don't need to check each one for new mail. This can be quite handy if you have lots of accounts and you just want to check if there is a new message needing your attention.
Google Talk handles the Instant Messaging department. The G-Talk network is compatible with a variety of popular clients like Pidgin, Kopete, iChat and Ovi Contacts.