From outer space
Samsung I9000 Galaxy S review: From outer space

Android Market is where you get the new apps from
The number of apps in the market is ever growing and a recent survey showed that it has the highest free-to-paid apps ratio out of all the app stores. It's just too bad they are low on 3D games.
The first screen of the Market shows several featured apps. The Market organizes apps and games into two separate tabs and each tab lists sub-categories (e.g. Finance applications, Arcade & Action games). In each category you can select to view the Top free apps or ones that are "Just in".
There's a third tab – Downloads – that keeps track of what you've already downloaded. Do keep an eye on this tab – when updates become available for an app you've installed, a label shows up next to the app name to notify you.
Applications range from pretty silly (including one that simulates a doorbell), through fun (e.g. a virtual guitar) to real must-have's (including task killers, navigation software and more), but that's true for every other app store.
Android 2.2 Froyo will allow installing apps on the memory card, so new elaborate apps and killer games are likely to appear as soon as it is released. This will improve the Android Market's chances to catch-up with the Apple AppStore.
Samsung Dive locates your device, remote wipes it
Competition between phone makers is getting really heated, so they're offering more and more free services to lure in customers. Samsung Dive is a prime example - it's a phone finder/remote wipe service, something which used to be a premium, corporate-centric feature back in the day.
The officially supported devices currently include the Samsung Galaxy S and Galaxy S II, along with the Galaxy Tab 10.1 and Tab 8.9 and the Samsung Wave. That's it, even the Galaxy S Plus isn't listed. An exception we found is that the Samsung Wave II is supported too even though it's not on the list.
The star of the show here is the Remote Controls feature (actually, it's the only feature). It can locate your phone or you can set it to track the phone for 12 hours on, recording its position every 15 minutes. If you've only misplaced your phone, say, it's behind the couch or your dog's been using it as a bite toy (true story!), there's an option to ring the phone out loud too.
And if it turns out that the phone isn't in the house you have the option to lock the phone, wipe its memory and check the call logs to see if there were any calls made from it.
Locking the phone lets you enter a message to display on the device (up to 100 characters) and you can enter a phone number, which will be the only number callable from the locked phone (you'll also get an SMS to that number if the SIM card is changed). A 4-digit PIN is also required, which can later be used to unlock the phone.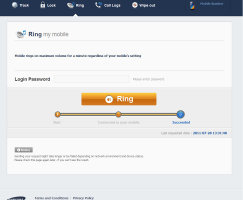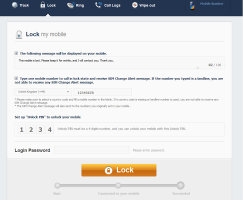 Ringing the phone is your first option • It's good to lock the device if it's not at home
Keep in mind that if you choose to wipe the device, you'll no longer be able to use Samsung Dive on it. You can re-register if you find it, but tracking will no longer work, which means remote wiping is your last resort.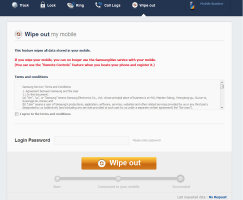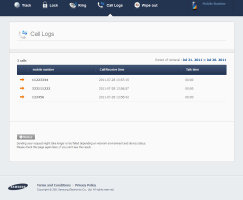 Wiping the device clears all its data and disables Dive • Check the Call log first
When trying to locate your device, you have two options - Find my phone and Track my phone. They may sound alike, but they do differ a bit. Track my phone records the phone's location in 15-minute intervals over a period of over 12 hours and plots the locations on the map (Google Maps is used).
But, for it to work, the phone needs to have a GPS lock - the Cell-ID and Wi-Fi positioning won't cut it. So, if the phone is in a building or in another area with poor GPS signal, tracking won't work.
Find my phone works fine with the less accurate options but it only shows the phone's current location and it won't record past positions. The nice thing is that even if all location options were set to off before the handset was misplaced, those will be enabled automatically as soon as you start looking for it.
Unlike HTCSense.com, Samsung Dive is purely for locating your device or remote wiping it. There are no options to view/manage contacts or messages or anything like that.
Final words
We tested the Samsung I9000 Galaxy S and it tested us in return. It bared its teeth at us and so did we. Ours was a grin. Easy boy, good beast. There goes the new leader of the Android pack. The Samsung I9000 Galaxy S has oomph to spare and even hardened geeks like us cannot help but acknowledge its compelling power.
Not only does the Galaxy have a performance edge over its competitors, it's probably better too in terms of usability thanks to TouchWiz. And the majestic Super AMOLED display is a great reason on its own to buy the Galaxy. Be warned though, you're unlikely to ever go back to TFT again. Meaning that at this point, the question to ask yourself is whether you're ready for a long-term affair with Samsung.
If you are looking for the ultimate Android device, there are very few things really to make you consider another handset.
One thing would be still imaging. If that matters more to you than video, have a look at the Sony Ericsson XPERIA X10. It gives you an (almost) equally capable CPU, a tad higher screen resolution but runs Android 1.6 Donut, which - Froyo or not - looks downright outdated.
Mentioning Android 2.2, the Google Nexus One will certainly be one of the first devices to get it. Froyo brings a handful of new features and a vast performance improvement so it will put compatible devices to an obvious advantage.
HTC also confirmed that their latest smartphones will be getting the Android 2.2 treatment before the end of the year so the Sense UI-packing Desire is worth a second look, too.
To be honest though, the AMOLED displays of the Desire and the Nexus One are nowhere near the Galaxy S standard.
Then, there comes the Motorola MILESTONE for those that do need a full QWERTY keyboard. The MILESTONE will also be among the first Froyo adopters so it has quite a lot of potential. It doesn't obviously offer the same kind of processing power, nor a display that impressive.
All this raises the pricing issue. We have no idea what the Galaxy S will cost but Samsung's recent record does offer some reason to be cautiously optimistic. The price of the other Super AMOLED device, the Samsung S8500 Wave, is a good reference. So, if our intuition is right the Galaxy S will be a great deal. If we're wrong, the best screen in business will cost you dear. At least, it won't be a surprise.
So, while Samsung I9000 Galaxy S is coming to the market a bit late it hasn't been wasting its time. It certainly is the best Android package we've seen so far - a hearty Samsung welcome to all upgraders. We're not sure about Android newcomers, but anyone looking for the ultimate performance has almost no alternatives but the Galaxy S.