Collision course
Samsung I9000 Galaxy S vs. Apple iPhone 4: Collision course

Telephony
The fact aside that telephony is still one of the main jobs of a mobile phone, we don't think we would have normally included such a chapter in a shoot-out. But this has quite a lot to do with design, as many unfortunate iPhone 4 users have come to learn the hard way.
If you are reading this, chances are you already know everything there is to know about the so-called Antennagate. In the end, it's not about a weak spot in a phone that's pitched as the pinnacle of evolution. It's about how Apple handled the whole thing.
Apple thought it had nailed it with their all-new antenna design giving the iPhone 4 better signal reception than any iPhone before it plus keeping thing as compact as they come. But it didn't quite work the way they hoped. It could've been an oversight. Or they knew contact with skin will most certainly interfere with the antenna and cause the phone to lose signal – but didn't care to act when they should have.
Either way, the thing was blown out of proportion, fueled by Apple's own high-octane mix of arrogance and denial. It seems it's all heading towards a happily-ever-after. Our own tests showed iPhone's reception was mostly problematic in areas of spotty coverage . And bumper cases are certain to sort all issues out.
So there you go, Apple decided to give away free bumpers.
Of course not every iPhone 4 owner is happy to have a piece of plastic wrapped around their shiny handset. Not to mention that depending on the bumper you choose it might take up to 3 months for it to arrive. Not quite the best way to treat the customers, who paid good money for your device.
And to make matters worse, the antenna isn't the only problem of the iPhone 4. Proximity sensor issues have been reported since day one and this has nothing to do with external factors like the cellular network. We've done our own investigation into the issue and you can see, the problem is very much real.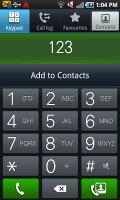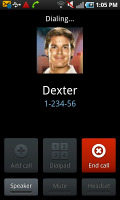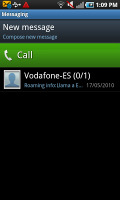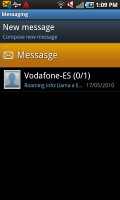 The Samsung Galaxy S has some clever ways to dial
The proximity sensor on the iPhone 4 is somewhat buggy and the screen will sometimes turn on even though you are holding the phone right next to your face. Accidental presses are likely resulting sometimes in dropped or muted calls, which can be quite annoying. At least Apple owned up to this one and promised a fix in the next iOS version (in fact the iOS 4.1 beta is already available and early reports suggest it does fix things up).
Next up is video calling. The Apple FaceTime videochat service only works over Wi-Fi (unless you have a jailbroken device) and both parties must have an iPhone 4. So it's not exactly the most widely adopted option for video chats.
The Galaxy S has video-calling enabled too. And what do you know, the other person doesn't even have to have a Galaxy S, just any 3G handset will do (well, okay, most of them). The Galaxy S also brings contact widgets, quick contacts and that neat little feature that allows you to dial or text a contact in your phonebook by a swipe gesture.
Apple iPhone 4: 4/10 • Samsung I9000 Galaxy S: 9/10
Display
This is where it gets serious. The best displays in business, the pride and joy of Samsung and Apple.
In the Galaxy S corner is a 4" SuperAMOLED display of WVGA resolution (800 x 480 pixels). Across the ring we have the iPhone 4 and the Retina display – a 3.5" S-IPS LCD unit at 960 x 640 pixels. Both of course have support for up to 16M colors, so banding isn't an issue.
There isn't much to say about the sensitivity of the two touchscreens either – they are both superb. We see capacitive at its best here and with screens this big and interfaces so well optimized you're likely to enjoy yourselves.





The iPhone 3G, iPhone 4 and Samsung Galaxy S indoors
The SuperAMOLED technology is superior to LCD, especially on hand-held where its relatively shorter life span doesn't really count. The iPhone 4 has higher nominal resolution, for finer, sharper image quality.
Besides the LCD mounted on the iPhone 4 has out-of-this-world viewing angles and manages to do something we never believed possible. It turns out that from extremely tight viewpoints the iPhone actually looks a bit better. However, considering that no one actually looks at their phone screen from such steep angles it's a fact interesting to scientists but irrelevant to users.
Now for the resolution – the iPhone 4 is certainly impressively sharp, with pixel density unmatched by a GSM phone. No matter how close you look at it, it's virtually impossible to see individual pixels. That's certainly a welcome upgrade over previous iPhones, which had incredibly low pixel density but is not to say that the Galaxy S is the sad loser here.





The three phones outside in the sun
Right on the contrary – the Samsung I9000 with its WVGA resolution is pretty sharp too. What's more, the way you normally hold your phone (at just under an arm's length away from your eyes) the difference between the two is hardly that big.
Even at that distance, however you can easily see the superior contrast of the Galaxy S SuperAMOLED screen. Those kind of displays, unlike LCDs, are able to display pitch-black and much more saturated colors in general, which is really what we all want to see. It's also what makes the difference when watching a movie on your mobile phone, giving the Galaxy S an edge here.
And speaking of video playback, the Galaxy S has another advantage over the iPhone 4. Its widescreen 15:9 display is much better suited for watching movies, which all tend to come in 16:9 aspect ratio or even wider. You still need to lose a small part (where black bars appear) of the screen or crop the edges of the frame, but the iPhone has it much worse here.





Viewing angles compared: Samsung I9000 Galaxy S, Apple iPhone 4 • iPhone 3G
All that said, we really believe that the Samsung I9000 Galaxy S takes an edge on the more important parts of the display performance. Plus it gets an extra point for the extra size to win this one.
Apple iPhone 4: 9/10 • Samsung I9000 Galaxy S: 10/10