Collision course
Samsung I9000 Galaxy S vs. Apple iPhone 4: Collision course

Music player
Ample high-quality screens, vast storage space and loads of processing power – the iPhone 4 and the Galaxy S are both great portable multimedia players. But it takes more than that to reach perfection and we are about to see which of them walked the extra mile.
In terms of visualization, none of the smartphones gains an upper hand as their touch music player interfaces are among the best on the market.
The Samsung Galaxy S however scores an extra point for bringing an FM radio along. While the iPhone 4 may have an edge in audio quality, it's certainly has no match for tuning to a favorite FM station.
On one hand you have the iPhone 4 with its iPod pedigree, making a really strong candidate. The iPhone 4 is also the handset with the cleanest audio output we have seen and one of the loudest, too (when using headphones).
The Galaxy S audio quality is great but not iPhone 4-perfect.
For this shootout we decided to do something more than our usual audio quality test and recorded each of the handsets twice. The first two rows of the table below contain the numbers we usually publish - this is the performance of the handset when plugged into an active amplifier (i.e. your car stereo or your home audio system). It's the best the handsets can deliver as there is no additional resistance they have to deal with.
The second two rows show the actual performance of the iPhone 4 and the Galaxy S when a pair of headphones is plugged. We used a pair of AKG headphones with impedance of 32 ohms. As you can see both handsets audio quality slightly deteriorated but it still remained perfect for almost all purposes practical.
The stereo crosstalk is the only area that took a serious hit (mostly so with the Galaxy S), so leakage between the channels is more pronounced but everything else is great. Still it's easy to notice that the iPhone 4 gets an edge when headphones are connected, which is the only thing that matters to most of the users. The creators of the iPod certainly knew what they were doing here.
| | | | | | | |
| --- | --- | --- | --- | --- | --- | --- |
| Test | Frequency response | Noise level | Dynamic range | THD | IMD + Noise | Stereo crosstalk |
| Apple iPhone 4 | +0.01, -0.07 | -90.5 | 90.6 | 0.0041 | 0.011 | -92.0 |
| Samsung I9000 Galaxy S | +0.03 -0.04 | -90.7 | 90.6 | 0.014 | 0.019 | -90.6 |
| Apple iPhone 4 (headphones attached) | +0.01, -0.07 | -90.4 | 90.4 | 0.0036 | 0.092 | -68.4 |
| Samsung I9000 Galaxy S (headphones attached) | +0.40 -0.12 | -90.7 | 90.6 | 0.018 | 0.329 | -43.3 |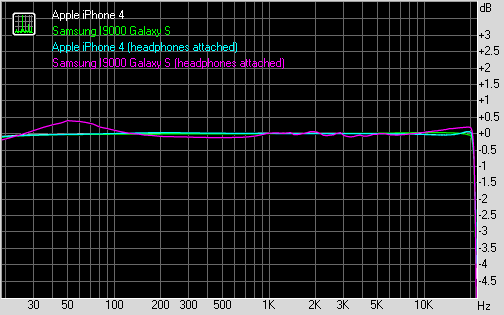 Apple iPhone 4 vs Samsung I9000 Galaxy S
As far as uploading multimedia files to you mobile phone goes, the Galaxy S has a clear advantage. You can just attach a cable (Bluetooth and WLAN are also options) to your phone and any computer nearby and you are good to go. Things just don't get simpler than drag-and-drop.
Of course the iPhone 4 comes in 16/32 GB flavors so it offers more storage out of the box than the 8/16GB Galaxy S, but the Samsung handset has a microSD card slot, which lets you bump its storage up to the impressive 48 GB.
The biggest multimedia sin of the iPhone 4 is that it's all too reliant on iTunes to prepare its multimedia files for it, which is quite a complication – especially on Windows, where iTunes performance is hardly award-winning. You should be able to transfer files to your handset anyway you like anywhere you want, not on a fixed computer through some fixed piece of software. There are workarounds for this, like the Filer app, we recently covered, but none of them is as good as the real thing.
Apple iPhone 4: 8/10 • Samsung I9000 Galaxy S: 9/10
Video player
The Samsung Galaxy S brings a larger screen with much better contrast, making it perfect for watching videos. It also sports a much more suitable screen aspect ratio, allowing widescreen movies to fit better and waste less screen estate. And with native DivX and XviD support, chances are you won't need any video conversion kung-fu too.
Then of course, there's battery life too. You can only play so many movies as your batter lasts. In our recent dedicated battery test the Samsung Galaxy S went on playing our test DivX video sample for some good 7 hours and 25 minutes before the battery fell below 10%.
The iPhone 4 however is our current video battery life champ. We converted the test video sample in a format it recognizes but keeping the original bitrate and we fed it to its iPod video player. It lasted 9 hours and 40 minutes – a very impressive achievement.
As far as general battery performance is concerned, we find the two contenders quite on par with each other.
However would still pick the Galaxy S as a better all-round portable player, because larger, wider screen. Not to mention that the stuff about the overall larger storage capacity (and removable, too) of the Galaxy S plus the silly iTunes chains on the iPhone 4 still hold true when you mean to use your phone as a video player.
Apple iPhone 4: 8/10 • Samsung I9000 Galaxy S: 10/10