Collision course
Samsung I9000 Galaxy S vs. Apple iPhone 4: Collision course

Application base and handling and App stores
OK, it's open source Android against control freaks Apple. It's iPhone users who are habituated into paying for their apps against Android and its tons of free content. App stores are a key value-adding feature of today's smartphones. And they are massive money makers for their owners.
The iPhone App Store has much more apps than the Android Market. The Market passed 100,000 apps and it's still playing catch-up – that's how big the Apple App Store is. The Android Market can hardly make up the lack of quantity with quality too.
Take games for example – because of Android OS limitations, games cannot be very big so the Android Market offers mostly simple games. The Apple App Store on the other hand has some really exciting and elaborate games, the new gyroscopes in the iPhone 4 make them even more fun.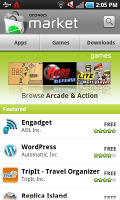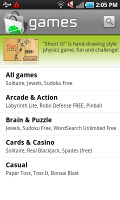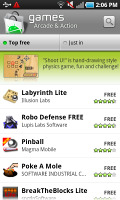 The Android Market doesn't offer many games
Of course, the limitation will be lifted from the Samsung Galaxy S with the Froyo update but we run into another problem – platform fragmentation. Almost half of Androids run v1.5 Cupcake or v1.6 Donut, and there are quite a number of droid phones with different display resolution.
This limits the potential market for an app or game, which in turn limits the number of developers willing to create apps for just that part of the user base. There's some fragmentation in the App Store too, but it's much less prominent.
The iPhone 4 can run every iPhone app under the sun. iPad apps are not compatible but that's not a loss really. The iPad apps are mostly variants of their iPhone counterparts – if an app is available for the iPad, there's probably a version of that app for the iPhone. Differences between iPhone 4 and iPad apps are caused mainly by the physical difference between screen sizes – nothing can be done about that.
"App Store", "Market"... Clearly they're meant to sell stuff so let's get to the topic of money. The Android Market is a haven for free apps (more than half of the apps are free), but the truth is that it's money that brings in a large number of developers – they make mobile apps for a living.
Here, the iPhone 4 has the clear advantage – the App Store is more profitable and even for free apps, there's the iAds service which can generate revenue indirectly. Google recently bought AdMob and it's a safe bet that they'll put some effort into creating a similar service. But right now, Apple promises the bigger pay off for devs' hard work.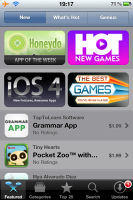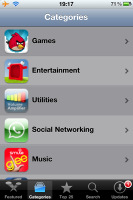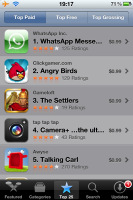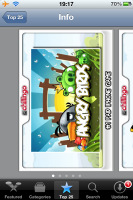 The iPhone 4 on the other hand has plenty to offer gamers
That's just one side of the coin though – the other is how users pay. Buying an app on the Apple iPhone 4 is nice and simple – users have an account linked to their credit card. On the Samsung I9000 Galaxy S, you have to use Google Checkout and few people use that service much – if at all.
On the other hand, the Android Market has great return policy. If you uninstall a paid app up within 24 hours from purchase, the Market will give you a refund. If you find out the app you just bought isn't as useful as you though it would be, this can be quite a cash saver.
Let's go back to the developers for a moment – Apple have angered quite a few devs with their obscure and inconsistent approval system. They also limit what kind of apps can be in the App Store, which often means iPhone 4 users don't have access to some apps.
Take Google Voice for example – it's a great management tool if you have to juggle several phone lines, especially if some are just for work and others personal. But Apple with their "no duplication" policy don't allow the Voice app into the App Store. Google went around this and created a web app you can use instead, but it's not as good. The Samsung Galaxy S can run the native app no problem.
Of course there's the issue of multitasking. Android has true multitasking – it can suspend an idling app when it runs low on recourses but the Samsung I9000 Galaxy S has plenty of RAM and can run multiple apps simultaneously without breaking a sweat.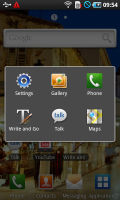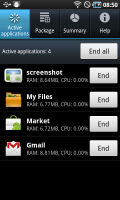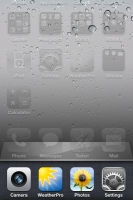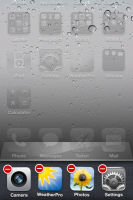 The task manager on the iPhone 4 and the Samsung Galaxy S (Eclair and Froyo)
The iOS4 and Apple iPhone 4 situation is different though – it can very convincingly fake multitasking with apps that support it, but it's not true multitasking – at least not for the most part. Only a handful of apps get the green light for running properly in the background. And if your favorite app has not been updated to support any of that fast app switching or multitasking, then you're stuck with the same limitations older OS versions and iPhones had. But still, users hardly ned all apps to run in the background, so perhaps that's not such a big letdown.
Apple iPhone 4: 9/10 • Samsung I9000 Galaxy S: 8/10
Wrap up
Well, here we are at the end of our grand battle. We tried to be as helpful as possible to everyone wondering which of the two best smartphones currently available to purchase. There's a reason why we won't add up the individual scores for each phone - different people have different needs and you should count only the scores on the chapters that are important to you.
And don't take our word for granted - you are free to disagree with our reasoning. After all, every person out there uses their phones in a different way. That's the beauty of it - the latest and greatest smartphones can do so much for you that you can even afford to not use some of the available features and still have a great experience.
There's no ultimate smartphone out there and the right choice boils down to the compromises you are willing to make. Price is important factor too and currently the iPhone 4 is probably the most expensive smartphone on the market (contract-free). But then again, Apple gadgets are almost always the most expensive among their kind and still, they sell quite well.