The whole nine yards
Samsung i900 Omnia review: The whole nine yards

File management and file system performance
Samsung i900 Omnia offers generous file storage capacity. The handset comes in two flavors - one with 8GB and another one with 16GB worth of data storage. Our test Omnia unit had 8 gigs on board.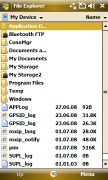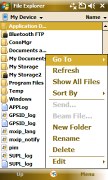 The WinMo file manager on the Omnia
The Samsung Omnia even has a microSD card slot, which easily worked with 4GB and 8GB memory cards. However, the downside of Omnia's implementation is that the slot is not hot-swappable - you have to remove the battery in order to access it.
We ran a copy speed test on a Windows XP-based PC paired with the Omnia in USB Mass Storage mode. The Omnia proved rather fast in the Write operation (copying from PC to handset) but was some 30% slower in Read (copying from handset to PC). Here are the results:
Samsung i900 Omnia copy/paste performance:
PC to handset -> 3.9 MB/s
Handset to PC -> 5.2MB/s
Bear in mind that those figures will be lower on a Vista-based PC for some Microsoft-only-knows-why reason. That's another story entirely and we'd rather stayed out of it.
Image gallery is excellent
When it comes to image browsing, the Samsung Omnia Media Album is really fast displaying and browsing those 5 megapixel images fullscreen. It's actually a full featured file browser that shows only multimedia folder contents. Since it's universal (not only photo-centric), you can filter the shown files by type - image, video, music, and documents.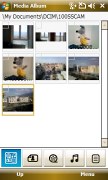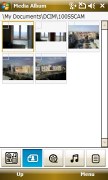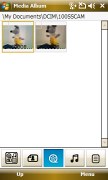 Browsing multimedia via the Media Album application and filtering content
Back to image browsing, the Media Album certainly benefits from the auto screen rotation feature. Zooming is as easy as on the Apple iPhone for example. You zoom in and out by simply dragging your thumb up or down the image. The first zoom step is a bit slow, but we are talking 5 megapixel images here. At this point we are really pleased with the Samsung solution.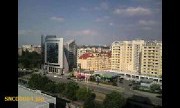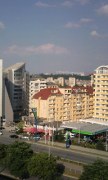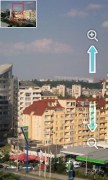 The zooming gesture is remarkably user friendly
Further on, if you want to see a slide show of your images, you can use the dedicated app that Samsung have also preinstalled.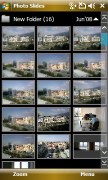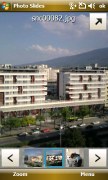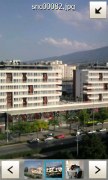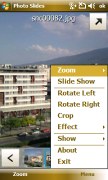 Browsing images as thumbs in Image Slide • playing a slideshow • fullscreen is available too
Music is always important
The Samsung Touch Player caters for the music department on the Omnia. You can sort music by album, artist, and genre or you can create custom playlists. Sorting the tracks by album brings the album cover interface. The album covers look nice and large, and can also be displayed full screen while you're listening to music. We are glad that in the retail version that we received the scrolling speed is much improved as compared to the first Omnia we had a chance to play with.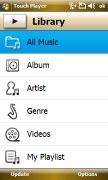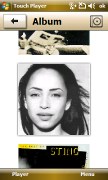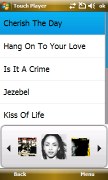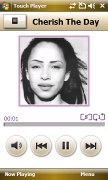 The music library • browsing albums • browsing album tracks
Unfortunately, the Samsung Touch Player lacks any equalizer presets; shuffle and repeat are the only related options.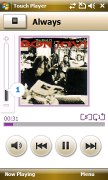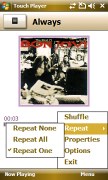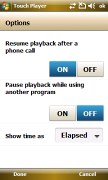 Volume control • Touch player options are limited • some of other player options are touch optimized
Audio quality
Windows Mobile devices have never been known for even decent audio output. Their business mindset has so far served as a good excuse for the poor audio. However, as the Samsung i900 Omnia is considered a multimedia device, it is about time this changed.
Since we published our Diamond vs. Omnia article, we received a final retail version of the Samsung i900 Omnia. While, we weren't quite satisfied with the first Omnia audio quality, things have changed with the retail version.
The frequency response of the retail Samsung i900 Omnia is good as before, however the other readings such as IMD and THD have been improved. All readings are good and some even impressive. The distortion levels are about the same as the Apple iPhone 3G, which is great. The frequency response of the two devices is also perfectly matching but this is hardly a surprise, as Samsung provide the audio chips for Apple's latest gadget. The areas where the Omnia is not so impressive are noise level, dynamic range and stereo crosstalk but still neither is actually bad. Anyway, the results are here, so you can see for yourselves, but it's safe to conclude that the Omnia offers unsurpassed audio quality among Winodws Mobile PocketPCs. And in case you've missed it, you can learn all about our testing process here.
| | | | | | | |
| --- | --- | --- | --- | --- | --- | --- |
| Test | Frequency response | Noise level | Dynamic range | THD | IMD + Noise | Stereo crosstalk |
| Samsung i900 Omnia | +0.37, -1.15 | -79.3 | 79.3 | 0.0039 | 0.027 | -78.7 |
| Apple iPhone 3G | +0.52, -1.05 | -89.9 | 90.1 | 0.0033 | 0.016 | -93.1 |
| HTC Touch Diamond | +0.42, -2.46 | -84.0 | 87.0 | 0.023 | 0.338 | -85.6 |
| Samsung U600 | +0.41, -1.12 | -89.2 | 86.5 | 0.0040 | 0.019 | -86.9 |
| Asus P750 | +0.55, -3.34 | -86.3 | 86.2 | 0.0081 | 0.926 | -76.2 |
| LG KS20 | +0.80, -3.60 | -85.6 | 88.7 | 0.063 | 1.310 | -86.7 |
| Nokia N81 | +0.39, -1.13 | -86.6 | 85.8 | 0.041 | 0.040 | -69.9 |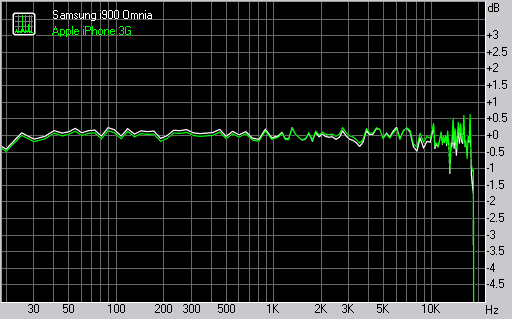 Samsung i900 Omnia and Apple iPhone 3G's frequency response graph match perfectly
Portable video player
The Samsung Omnia is the first DivX certified Windows Mobile device, so you get DivX playback straight out of the box on the same Touch Player that is used for music playback. Now there's some confusion roaming around that the Omnia has XviD support too, but we've played with a total of four different units - each at different stage of developement and XviD support was not present on any of them.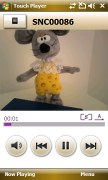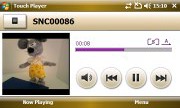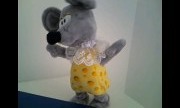 Playing video on the Omnia's Touch Player
For a wider range of supported video formats however, you should pick a third-party solution. We opted for the popular commercial Core player, since the free TCPMP player didn't run, probably due to some incompatibilities with Windows Mobile 6.1.
Samsung i900 Omnia turned out pretty good at near VGA-res XviD video playback - we played a DVD rip intended for desktop PC playback and luckily there were no skipped frames.
Furthermore, the Samsung Omnia has a widescreen display that is generally better at widescreen videos and with a slight zooming in, you get almost fullscreen playback.
FM radio is superb
The Omnia sports a built-in FM radio and it naturally requires the headset to be plugged-in.
The FM radio has an excellent interface, much like the rest of the multimedia players aboard, and is highly touch optimized. And it's packed with pretty much every feature you would need.
There are two separate lists for stored stations - they can both store unlimited number of stations. You can also place shortcuts to six favorite radio stations on the main screen.
The Radio player can run in the background, automatically pausing during calls, and broadcasts can be easily recorded with rather acceptable audio quality at 128kbps and 44000 kHz.
Naturally, there is RDS support.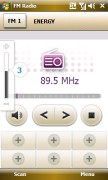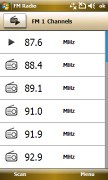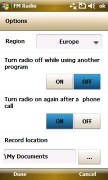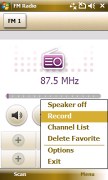 The FM Radio on the Omnia: adjusting the volume • the first channel list • FM radio settings are touch-optimized although rarely used • broadcast recording is a nice option