Samsung officially confirmed today the new color version of their top-of-the-line PocketPC – the i900 Omnia. The iPhonesque rear must be just what some of the WinMo fans out there have been waiting for.
Luckily, to us at least, Omnia's white backend gets rid of the wavy pattern that reminded us of N-series, that surfaced out a little while ago. It will feature the same brushed back as the black version, only this time in snow-white color.
Here is the first official photo of the Samsung i900 Omnia new outfit. Truth be told, it's a breather from the classy-but-too-conservative black version.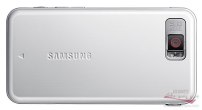 In case you need a quick refresh of why the Omnia is the tech-freaks' mantra these days, check out our review over here.
a
helo i have samsung i900 omnia i cant connect to internet or wifi what can i do to meke it work thanks.
K
Press "Dial" left throw up their for the call, type in * # 1546792 * # Select "Preconfiguration" Type in * # 81230 * # and select OK Select your country and select yuor carrer Press OK, the phone restarts and that's it
?
you can find it in the files, then clik the folder of My Documents
ADVERTISEMENTS