Just as we were getting ready to get it on March 15, we got even better news. Samsung I9100 Galaxy S II will be receiving an update to Android 4.0 Ice Cream Sandwich on March 10 - less than 48 hours from now.

Update: Samsung used its Twitter account to deny the statement of its website. It turns out the ICS update release date is still not settled and it will be announced at a later point in time.
The globally available I9100 will be the only version, which will receive the update at the moment. The TouchWiz-ed firmware will be available both on Kies and OTA.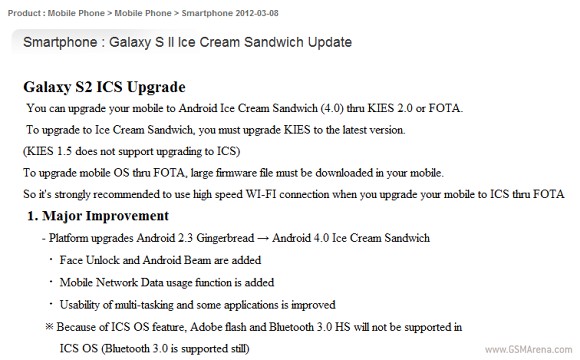 As you can see in the screenshot above, Face Unlock, Android Beam, and mobile data usage are among the major improvements which will come with the update. In a rather interesting fashion, flash support and Bluetooth 3.0 HS will not be supported due to an "ICS OS feature."
Samsung also warn against updating your device while running a customized or unofficial firmware on it. Apparently, unexpected problems might arise during installation.
It is needless to tell you that we will be checking regularly our office I9100 for the update. In case you upgrade your own handset, feel free to drop us a line with your impressions in the comments section. In the meantime, check out our video preview of an unofficial ICS ROM for the I9100 here.
Thanks to everyone, who sent this in!
?
So...I'm from South Africa, and couldn't wait any longer for the official ICS update for my region. Just flashed the firmware with the European version (XXLPQ), and I'm pretty impressed. Had a few hiccups with the initial update. But, after re...
K
We are all glad that you are happy with ur AppleOS. Please never switch. Every day you put a big smile on my face :)
V
Its already been 3 days but we havent got the Update of ICS on S2...!Literally waiting for the change of OS as it is going to be a massive change...! Just give us the xact date so that we can try ittt...!
ADVERTISEMENTS