Uncharted waters
Samsung Galaxy S4 Active review: Uncharted waters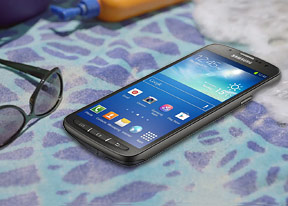 Samsung I9295 Galaxy S4 Active 360-degree spin
The Samsung Galaxy S4 Active is slightly larger than the regular Galaxy S4 in every dimension, and the more than 1mm of extra thickness is the easiest to spot. It's also 21g heavier due to the water-proofing, the different plastic used and the different screen. It certainly adds to the solid feel of the device, but does make the smartphone a bit harder to carry around.
Compared to the Sony Xperia Z, the Galaxy S4 Active has virtually identical footprint and weight, but again, it's thicker by over a millimeter. Whether or not the added flexibility of a bigger, removable battery is worth it, is a question everyone should answer for themselves.
Design and handling
The basic floor plan of the Samsung Galaxy S4 Active is that of the regular Galaxy S4 (the thin bezels around the screen are a hair thicker) but there are many design cues taken from the Xcover phones. The Samsung Galaxy S4 Active comes in three color versions - the bold Orange Flare and Dive Blue and the more muted Urban Grey.
The Galaxy S4 recently got some new color options as well, but they are not quite as eye-catching as the Orange and Blue versions of the Active, which accentuate its rugged nature very well. The four screw caps on the back are a clear sign of "rugged".





Samsung Galaxy S4 and S4 Active side by side
Then there are the physical buttons on the front (capacitive buttons don't work when wet) and the new plastic on the back. It's has a honeycomb texture under a transparent glossy layer.
The Galaxy S4 Active unit we used for the preview (the Orange Flare version) had a matte, patterned back, which we quite liked. However, the version we're reviewing - the Urban Grey - has a smooth glossy back and so does the Dive Blue version. We're yet to see a production version of the Orange Flare, but chances are it has the same smooth plastic on the back.
The patterned plastic was better at hiding fingerprints and also provided more grip - the smooth glossy plastic is slippery even dry and it will only get worse when wet. We also wish Samsung put the same ribbed sides as on the Galaxy Xcover, they made the grip really solid.
Still, we like the design of the Galaxy S4 Active - it strays away from the S III derived design that has turned Samsung's lineup into a clone army. Also, some people just prefer hardware buttons over capacitive keys, especially when the bezels are so thin, increasing the chance of accidental taps on the capacitive controls.
In terms of handling, the Galaxy S4 Active is roughly similar to the regular S4. The extra thickness and weight are noticeable, but don't impede one-handed operation. It's not as sleek as the Sony Xperia Z, but that one clearly rated elegance higher than rugged appearance.



Samsung Galaxy S4 Active in the hand
We should note that when we say "rugged" we mean in comparison to regular smartphones. The Galaxy S4 Active will handle dust and some water like a champ, but it's not really meant to take hard knocks so you should still be careful with it.
Display
The Samsung Galaxy S4 Active uses a 5" 1080p LCD screen, unlike the Super AMOLED on the regular S4. It has 441 pixels per inch and while it has more sub-pixels per inch (since Super AMOLED uses a PenTile matrix), the perceived sharpness is virtually the same (the high pixel density and new sub-pixel arrangement in the latest generation Super AMOLED take care of that).



The S4 and S4 Active use a Super AMOLED and TFT respectively
The LCD does have some tangible advantages - it's brighter, for example. The contrast and black levels aren't as great though and there's some slight contrast loss at an angle. It's a minor issue and the screen on the Galaxy S4 is among the better LCDs we've seen.
Color rendering is another difference between LCD and AMOLED - colors in a gradient are more distinct on the Galaxy S4 Active display than they are on the regular S4.
Display test
50% brightness
100% brightness
Black, cd/m2
White, cd/m2
Contrast ratio
Black, cd/m2
White, cd/m2
Contrast ratio
Samsung I9190 Galaxy S4 mini
0
166
∞
0
396
∞
Samsung I9295 Galaxy S4 Active
0.20
207
1053
0.57
594
1046
HTC One
0.13
205
1580
0.42
647
1541
HTC Butterfly
0.14
173
1200
0.45
501
1104
Samsung I9505 Galaxy S4
0
201
∞
0
404
∞
Samsung I9300 Galaxy S III
0
174
∞
0
330
∞
Sony Xperia Z
-
-
-
0.70
492
705
Oppo Find 5
0.17
176
1123
0.51
565
1107
Samsung N7100 Galaxy Note II
0
215
∞
0
402
∞
LG Optimus G Pro
-
-
-
0.41
611
1489
Nokia Lumia 920
-
-
-
0.48
513
1065
LG Optimus G
0.14
197
1445
0.33
417
1438
Apple iPhone 5
0.13
200
1490
0.48
640
1320
You can find all about our display testing routines here.
The 5" TFT is slightly more reflective than its Super AMOLED counterpart, which hurts sunlight legibility despite the higher brightness.
Sunlight contrast ratio
Nokia 808 PureView
4.698
Apple iPhone 5
3.997
Samsung I9300 Galaxy S III
3.419
Samsung Galaxy S4
3.352
Samsung Omnia W
3.301
Samsung Galaxy S
3.155
Nokia N9
3.069
Samsung Galaxy Note
2.970
HTC One S
2.901
Samsung Galaxy S II
2.832
Samsung Galaxy S II Plus
2.801
Huawei Ascend P1
2.655
Nokia Lumia 900
2.562
HTC One
2.504
Sony Xperia Z
2.462
Samsung Galaxy S III mini
2.422
Motorola RAZR i
2.366
Sony Xperia ZL
2.352
Samsung Galaxy Note II
2.307
Apple iPhone 4S
2.269
HTC One X
2.158
Nokia N8
2.144
Oppo Find 5
2.088
BlackBerry Z10
2.051
Samsung Galaxy S4 Active
2.022
Apple iPhone 4
2.016
Sony Ericsson Xperia ray
1.955
Samsung Galaxy Camera
1.938
Samsung Galaxy Mega 6.3
1.913
HTC Butterfly
1.873
Huawei Ascend Mate
1.845
Sony Xperia V
1.792
Sony Xperia U
1.758
LG Optimus 4X HD
1.691
HTC One V
1.685
LG Optimus Vu
1.680
HTC Desire V
1.646
LG Optimus G Pro
1.552
LG Optimus 3D
1.542
Nokia Asha 302
1.537
Nokia Lumia 610
1.432
Gigabyte GSmart G1355
1.361
HTC Desire C
1.300
LG Optimus L7
1.269
LG Optimus L9
1.227
Meizu MX
1.221
Sony Xperia E dual
1.203
Samsung Galaxy Pocket
1.180
Sony Xperia tipo
1.166
Samsung Galaxy mini 2
1.114
All in all, we can't call the Samsung Galaxy S4 Active display much of a downgrade - it's the same size and resolution and it's brighter and color rendering is a tiny bit more accurate. We'll see how the different screen affects the battery life though.