Uncharted waters
Samsung Galaxy S4 Active review: Uncharted waters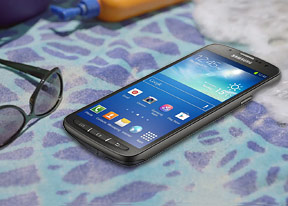 Good 8MP camera
The Samsung Galaxy S4 Active packs an 8MP camera, just like the Galaxy S II and S III. It snaps photos with a maximum resolution of 3264 x 2448 pixels. There's a 2MP camera on the front too and both can shoot 1080p video.
The user interface is based on the Galaxy Camera interface. The viewfinder is handles both still and video capture, so you don't have to switch modes. However, this is certainly not the most convenient solution as, if you're shooting full resolution 8MP photos, you'll have to frame your videos using a 4:3 viewfinder.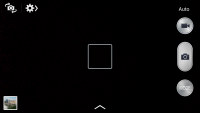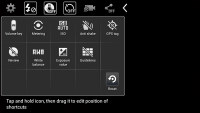 Samsung Galaxy S4 Active user interface
Anyway, the cool settings are found in two places. The first is the Mode button under the shutter keys. It brings up a carousel with different shooting modes, each mode comes with a descriptive image and text. When you get familiar with those modes, you can switch to the grid, which drops he text but is faster.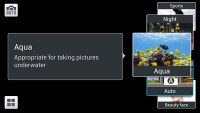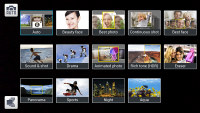 Carousel and grid views for the Mode selector
The other one is the arrow at the bottom of the screen, which brings up a row of color effects. Each effect gets a live preview, so you can see what the particular scene will look like with it. There's a download button so you can grab more effects.
There are more settings in the top left corner, but they won't be used very often. Still, there a number of interesting options here like the setting for the volume rocker to act as a still shutter key, a video shutter key or a zoom lever. The HDR mode (Rich Tone) can be set to save a normal and an HDR photo or just the HDR one. Another interesting option is contextual file names - the Galaxy S4 Active will name photos with your location.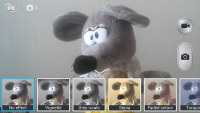 Color effects get a live preview
One thing we did notice is that there are fewer manual settings - the Galaxy S II and S III used to let you tweak all photo parameters, while the Galaxy S4 Active just gives you an ISO setting.
Let's go over the different modes. There are standard modes like Rich Tone (HDR), Panorama, Night and Sports but also the exclusive Aqua mode for underwater shooting.
The first time you launch Aqua mode it asks you what function you want to assign to the volume rocker - the capacitive screen won't work, so you have to use the volume rocker. Then you get a reminder to close the microUSB port to prevent water damage (you get this every time). Aqua mode tunes image processing as shooting underwater is quite different than above water.
Panoramas are pretty impressive, they go a full 360° circle or more and has about 8MP (the regular S4 panoramas go up to 60MP). Note that if you hold the phone vertically, the panorama image will have nearly more than twice the resolution. Here's a sample panorama - the stitching is pretty good, unless there are moving objects to trip it up.
Other modes we've seen on previous Samsung phones like Best Photo and Best Face, which snap multiple photos and let you pick the best one (in the case of Best Face, you can tweak each face in the photo individually). Beauty Shot does some automatic beauty touch up.
Drama mode takes a moving object and clones it several times. Note that the resolution for this mode drops to 1080p. Another way to capture moving objects is Animated Photo, which creates cinemagrams. The result is an animated GIF file, though we have to say we liked Nokia's implementation better.
Sound & shot captures a photo and records ambient sound. It sounds pretty cool - for example, you can hear the sea gulls in a beach photo or the roaring of car engines if you're at a race - but we had problems sharing the shot. All the Galaxy S4 Active would send is the still image, a JPEG, and the sound remains on the phone.
Photos shot with the Samsung Galaxy S4 Active are comparable to Galaxy S III photos. The noise levels are low and there's plenty of detail. Colors are mostly accurate, though the green channel saturation has been boosted (typical for Samsung phones), which also throws off the white balance a bit. While we would have preferred a 13MP camera, the 8MP shooter of the Galaxy S4 Active produces very good photos.





Samsung Galaxy S4 Active camera samples
The field of view is virtually identical to that of the Galaxy S III and wider than the Galaxy S4 camera.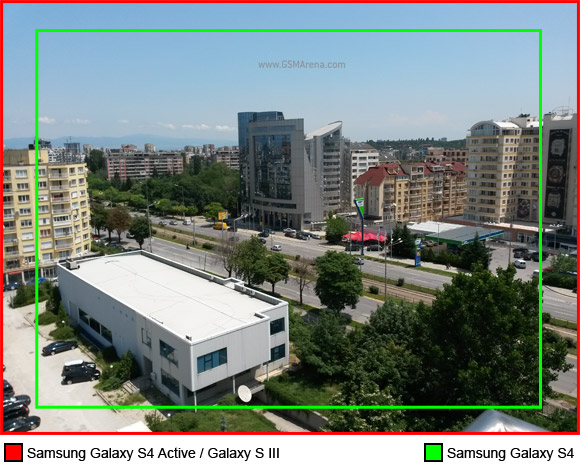 The Galaxy S4 Active also has an HDR mode (called Richtone), which can help with high dynamic range scenes. It does a good job of bringing out detail both in the highlights and in the shadows, but it affects color rendering.





HDR off • HDR on • HDR off • HDR on
Photo quality comparison
The Samsung Galaxy S4 Active camera is very much the same as the cameras on last year's flagships. You can also pit it against the 13MP camera of the regular Galaxy S4 and the water-resistant Sony Xperia Z using the upscale/downscale options in our Photo compare too.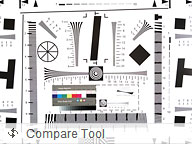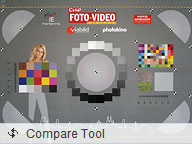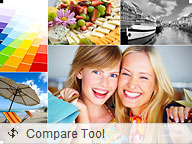 Samsung Galaxy S4 Active in our Photo quality compare tool
1080p video camera gets the job done
The Samsung Galaxy S4 Active stores videos in MP4 files with 17Mbps bitrate on average. Stereo audio is recorded at 128Kbps bitrate and 48kHz sampling rate.
The video camera doesn't have many fancy shooting modes like the still camera, but dual shot is available and you can do slow-motion and time lapse videos. Slow-motion videos can go up to 8x slow down, but resolution drops to 800 x 450 and framerate to 15fps. Time lapse videos can speed things up to 8x, with resolution and framerate remaining at 1080p @ 30fps (time lapse actually requires less processing power than regular video capture).
Touch focus is available before and during video recording and you can switch back to continuous autofocus if you prefer. You can capture 6MP (16:9) photos during recording as well, but images come out with very different image processing than what you get from the still camera - the contrast and saturations are boosted way up and there's a good deal of overshaprening.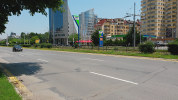 Still photo captured during video recording with the Galaxy S4 Active
Videos captured with the Samsung Galaxy S4 have a good of fine detail and little noise. Colors and white balance are similar to those in still images, overall accurate but slightly oversaturated (especially in the green channel). The continuous autofocus triggered a bit too often.
As before, the field of view for the camera is similar to that of the Galaxy S III and wider than the Galaxy S4.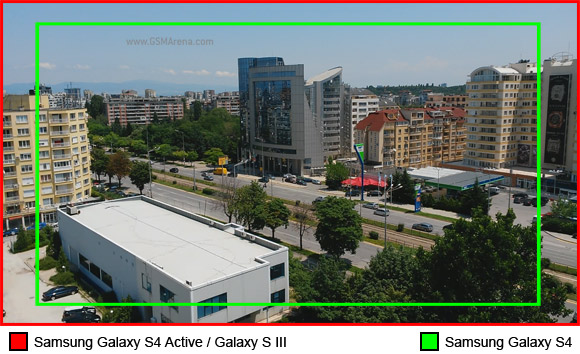 Here's a FullHD video sample we uploaded to YouTube.
Here is an untouched video sample from the Galaxy S4 Active you can download - 1080p @ 30fps (0:07s, 14.9MB).
Video quality comparison
You can also take a close look at the quality of Samsung Galaxy S4 Active videos in our Video quality compare tool - all flagship phones shoot 1080p video, so the S4 Active isn't at a resolution disadvantage here.