S to the third
Samsung I9300 Galaxy S III review: S to the third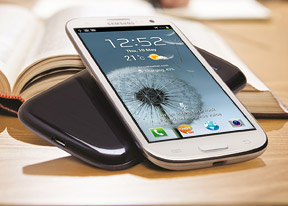 Organizer has everything you need
The calendar has four different types of view: list, daily, weekly and monthly. Adding a new event is quick and easy, and you can also set an alarm to act as a reminder.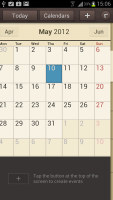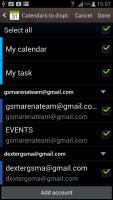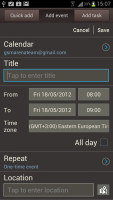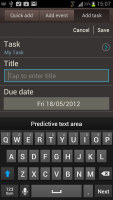 The organizer centerpiece - the calendar
The list view shows a list of all the calendar entries from the recent past to the near future. It's a very handy tool when you need to check your appointments for the next few days.
There is also a calculator aboard. It is nicely touch optimized - the buttons are big enough and easy to hit.
The Samsung I9300 Galaxy S III features a decent alarm clock application which allows a huge number of alarms to be set, each with its own start time and repeat pattern.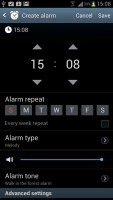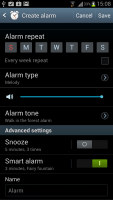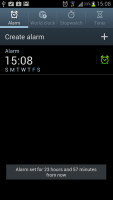 The Clock app has the alarm options
The Clock app also comes with a stopwatch and a timer. They are easy to work with and can come in handy.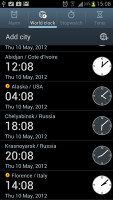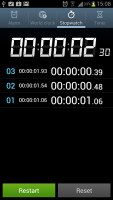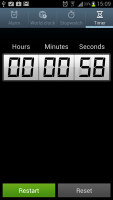 World clock, Stopwatch and Timer make an appearance as well
The Memo and Mini Diary are self-explanatory. The first app, however comes with a twist, as it lets you make elaborate drawings using a rich set of tools. It's heavily inspired by the S Memo from the Galaxy Note and Samsung even sell a special display-friendly ball pen for enthusiasts. S Memo can also work with simple text. S Diary, on the other hand, lets you also attach pictures to the text.
There's a YouTube app, which makes browsing YouTube videos from your subscriptions easier. Unfortunately, it cannot match the resolution the in-browser flash player can give you.
Google Maps Navigation puts the GPS to use from the get-go
The Samsung I9300 Galaxy S III comes with a GPS receiver, which got a satellite lock in couple of minutes with A-GPS turned off. A-GPS can speed this up quite a bit, but requires Internet access. We gotta say, we didn't experience any issues with the GPS performance.
With a screen as large (or larger) than most dedicated SatNav units, with excellent sunlight legibility and plenty of storage, money spent towards satellite navigation should go to buying a good app rather than a separate SatNav unit.
The Galaxy S III comes with Google Maps and Navigation. Voice-guided navigation has become a viable solution since the v5.0 update. Vector maps are smaller and easier on the data traffic and reroute is an option if you go off course without the need to connect to the Internet. In fact, the only time you need a data connection is when you initially plan the course - Navigation will cache the needed maps.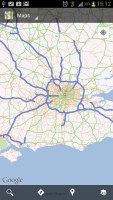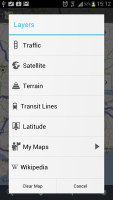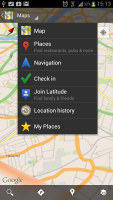 Google Maps with vector maps does a bit of 3D
Quite naturally, the app also supports the Street View mode. If it's available in the area you're interested in, you can enjoy a 360-degree view of the surroundings. When the digital compass is turned on it feels like making a virtual tour of the location.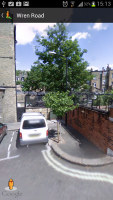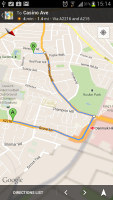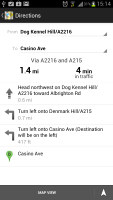 Using Street View • What's near by?
If Google Maps Navigation doesn't do it for you, you can grab an alternative app from the Google Play Store - there are both free and paid ones.
Google Play Store is the Galaxy S III playground
The Google Play Store features several scrollable tabs - categories, featured, top paid, top free, top grossing, top new paid, top new free and trending. Apps usually have several screenshots (some even offer a demo video) so you can get an idea of what the app looks like before installing it.
You can also check out comments and ratings, as well as the number of downloads and so on, to help you decide if the app is worth it.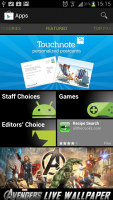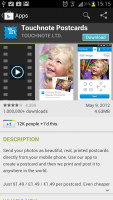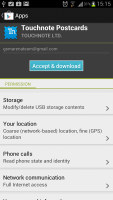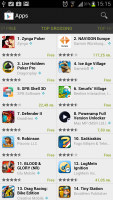 The Google Play Store will give you access to hundreds of thousands of apps
The Google Play Store is full of all sorts of apps. From music / video players, to file managers and various tools, you'll always see something worth a try.
Kies Air - a web server on your phone
The Samsung I9300 Galaxy S III comes with Kies Air preloaded. The app connects to the local Wi-Fi network (or it can create a Wi-Fi hotspot) and gives you an URL to type into your computer's web browser.
From there you can manage just about anything on the phone - be it contacts, messages (including composing messages), browsing images, videos and other files straight in your desktop browser. You can grant or reject access to computers and see who's connected to the phone at any moment.
The cool thing is you can stream music with handy playback controls. It works for videos too.Note: You'll need a reasonably modern browser with Java and some video plug-in (QuickTime worked for us).