S to the third
Samsung I9300 Galaxy S III review: S to the third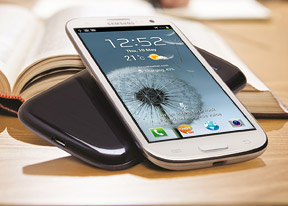 Gallery and file browser
The Samsung Galaxy S III comes with the default ICS Gallery. It opens up in Albums view, which is what we're used to seeing - it lists all folders with photos in the phone. Rather than the familiar stacks, the app uses a grid of photos, two on a line.
Besides, Album view, photos are sorted by Location, Time, Person (photos with tagged faces) and Group.
Getting inside an album displays all the photos in a rectangular grid, which is horizontally scrollable. When you try to scroll past the end, the photo thumbnails will tilt to remind you you're at the end.
When viewing a single photo, you'll find several sharing shortcuts and a delete button above the photo, while below is a line of small thumbnails of all other photos in the album. You can tap those small thumbnails to move to other images or you can just swipe to the side.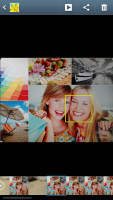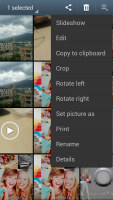 Viewing a single photo • Simple editing options
The Gallery also supports highly customizable slideshows with several effects to choose from, customizable music and speed. You can also highlight specific images to be included in the slideshow.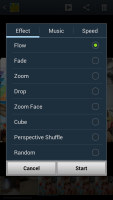 The slideshow option is highly customizable
When viewing a photo with people's faces visible in it, the Galaxy S III will try to detect them automatically (and you can manually highlight faces where it fails). Buddy photo share will use your contacts' profiles to try and recognize who is who automatically.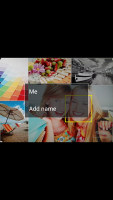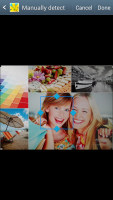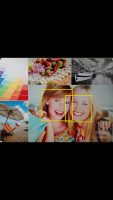 Putting a name to the face • Manually marking a face
Social tag makes sure that whenever a face is recognized in the photo, their status message appears and you can easily call or message that contact.
The My Files app hasn't changed really - it is an efficient and simple to use file manager. It can move, copy, lock and rename files in bulk, even send multiple files to another phone. My files will only browse the memory card and the large internal storage (it can't access the system drive).
TouchWiz music player goes after Walkman
The Samsung Galaxy S III uses an updated version of the TouchWiz music player. Samsung has enabled equalizer presets (including a custom one) along with the sound-enhancing SoundAlive technology, which features 7.1 channel virtualization. Samsung uses SoundAlive in some of their MP3 and Android-powered media players.
Music is sorted into various categories, but the most interesting one is called Music square - it's quite similar to the SensMe feature of Sony Ericsson phones. It automatically rates a song as exciting or calm, passionate or joyful and plots those songs on a square (hence the name).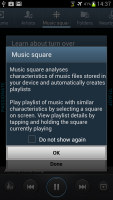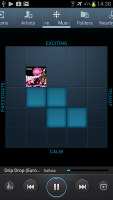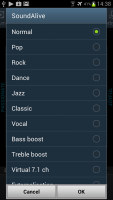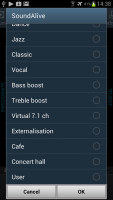 Music square creates automatic playlists based on your mood • SoundAlive offers an extensive list of presets
From here, you can highlight an area of the square and the phone will automatically build a playlist of songs that matches your selection. For example, if you highlight the upper part of the square the selected songs will be exciting and if your selection is centered around the lower right corner, the selected songs will be calm and joyful.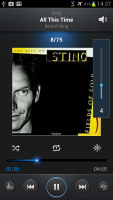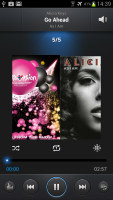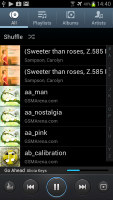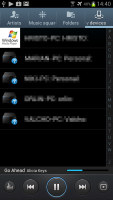 The music player has benefited greatly from the TouchWiz UI
You can swipe the album art left and right to move between songs. You can also put the phone face down to mute the sound or place your palm over the screen to pause playback.
The Galaxy S III player is DLNA-enabled, so you're not limited to tracks on your handset - songs on devices connected to your Wi-Fi network are as easy to get to as locally stored songs.