Conclusion
So, evolution can be cruel. But there's nothing wrong with how laptops have been handling it. They have been getting better as fast as ever, if not even faster recently. It's the smartphone revolution and the money it's making that changed the scene.
Phones are far easier to carry around and, once technology evolved enough to let them do more than calling, they were always likely to get more attention. They have obviously been busy closing in on laptops and, with HDMI and wireless connectivity constantly evolving, are becoming more and more of perfectly good alternatives of laptops as the media player bit in a home theater setup. Also, with Bluetooth and USB OTG, smartphones can have the full set of peripherals to match laptops: keyboards, mice, the lot.
Still we can't see that gap disappearing altogether - the screen size, a proper keyboard and the productivity of desktop software can't be compensated for just yet.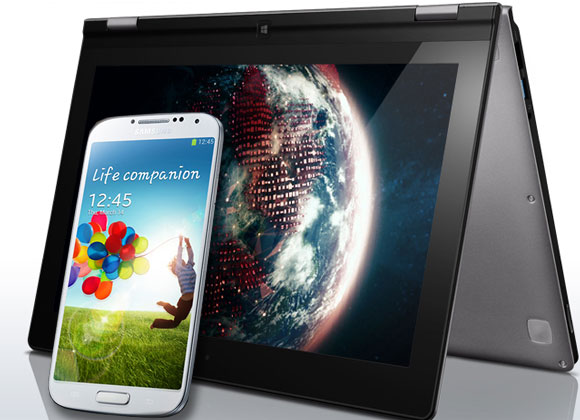 While it might seem that the smartphones and tablets are hurting laptop sales, we actually believe that at this point the two products are doing more of completing each other than actually competing. Even tablets are still unable to properly replace a laptop for even the most casual users, but at this rate we can't really say that day won't come.
Software is the tricky bit, and it goes both ways. Desktop software is still way ahead in terms of flexibility or real productivity: it will be a while before writers, accountants, architects, designers, software devs, photographers will be able to their job on a phone or tablet. Maybe never. On the other hand, laptops are being dragged down by the weight of an OS and apps invented years ago (redesigns and updates cannot quite hide that fact) and software that's been designed with a one-size-fit-all mentality.
Like chipset design, software development is favoring smartphones over desktop OSes. There's probably more profit in a simple touch-based game for handheld than the most impressively elaborate PC game that takes a monster GPU to run and a multiple-screen setup to appreciate.
And it's not the size, the touchscreen or the convenience, backed by the quickly advancing technology, that will continue to fuel the smartphones' drive forward. What we're watching evolve here is the very concept of personal. Ironically, the evolution started with the personal computer, and laptops were nothing short of a quantum leap. But it just doesn't get any more personal than something you can carry with you at all times and hold in hand.