Purified
Samsung I9505G Galaxy S4 Google Play Edition review: Purified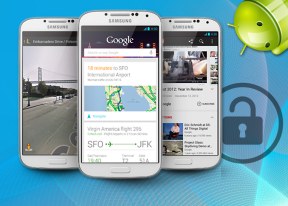 Stock Android looks great on the 1080p Super AMOLED screen
Stock Android Jelly Bean on the Samsung Galaxy S4 Google Play Edition premiers with a new live wallpaper dubbed Sun Beam, which is the popular Phase Beam but with a warmer maroon red twist. Stock Android has never looked livelier on another display. The 5" 1920 x 1080 Super AMOLED on the Galaxy S4 just brings out the entire OS to a whole new level.
Colors are vibrant and punchy, while blacks, which are heavily used throughout the interface are pitch black. There's one thing to note, however - there are no screen modes or scenarios like in TouchWiz. You cannot choose Dynamic or Adobe RGB setups, you're stuck with the default setting. That said, the default setting is nicely balanced - it's not as oversaturated as Dynamic mode but it still packs some warmer, more saturated colors than the HTC One, for example.



The 5" 1080p Super AMOLED is gorgeous
At over 440 ppi the Galaxy S4 Google Play Edition's screen looks as sharp as it gets and you can't notice the individual pixels with a naked eye. Everything is perfectly sharp down to the smallest UI item.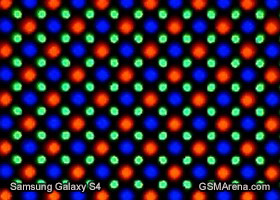 Samsung Galaxy S4 Google Play Edition screen under a microscope
The brightness levels of the Samsung Galaxy S4 Google Play Edition screen are on par with the rest of the company's AMOLEDs, which is to say, they are not very high. However, due to the screen's low reflectivity, this doesn't affect outdoor performance. Keep in mind that enabling the auto tone setting in the screen option limits the maximum brightness to under 300 nits, so if that matters to you, you better keep it off.
Display test
50% brightness
100% brightness
Black, cd/m2
White, cd/m2
Contrast ratio
Black, cd/m2
White, cd/m2
Contrast ratio
HTC One
0.13
205
1580
0.42
647
1541
HTC Butterfly
0.14
173
1200
0.45
501
1104
Samsung I9505G Galaxy S4 GPE
0
201
∞
0
404
∞
Samsung I9505 Galaxy S4
0
201
∞
0
404
∞
Samsung I9300 Galaxy S III
0
174
∞
0
330
∞
Sony Xperia Z
-
-
-
0.70
492
705
Oppo Find 5
0.17
176
1123
0.51
565
1107
Samsung N7100 Galaxy Note II
0
215
∞
0
402
∞
LG Optimus G Pro
-
-
-
0.41
611
1489
Nokia Lumia 920
-
-
-
0.48
513
1065
LG Optimus G
0.14
197
1445
0.33
417
1438
Apple iPhone 5
0.13
200
1490
0.48
640
1320
Much like with the rest of the S4 variations this is easily the best screen on a mobile phone today.
Sunlight contrast ratio
Nokia 808 PureView
4.698
Apple iPhone 5
3.997
Samsung I9300 Galaxy S III
3.419
Samsung Galaxy S4 GPE
3.352
Samsung Galaxy S4
3.352
Samsung Omnia W
3.301
Samsung Galaxy S
3.155
Nokia N9
3.069
Samsung Galaxy Note
2.970
HTC One S
2.901
Samsung Galaxy S II
2.832
Samsung Galaxy S II Plus
2.801
Huawei Ascend P1
2.655
Nokia Lumia 900
2.562
HTC One
2.504
Sony Xperia Z
2.462
Samsung Galaxy S III mini
2.422
Motorola RAZR i
2.366
Samsung Galaxy Note II
2.307
Apple iPhone 4S
2.269
HTC One X
2.158
Nokia N8
2.144
Oppo Find 5
2.088
BlackBerry Z10
2.051
Apple iPhone 4
2.016
Sony Ericsson Xperia ray
1.955
Samsung Galaxy Camera
1.938
HTC Butterfly
1.873
Sony Xperia V
1.792
Sony Xperia U
1.758
LG Optimus 4X HD
1.691
HTC One V
1.685
LG Optimus Vu
1.680
HTC Desire V
1.646
LG Optimus G Pro
1.552
LG Optimus 3D
1.542
Nokia Asha 302
1.537
Nokia Lumia 610
1.432
Gigabyte GSmart G1355
1.361
HTC Desire C
1.300
LG Optimus L7
1.269
LG Optimus L9
1.227
Meizu MX
1.221
Sony Xperia E dual
1.203
Samsung Galaxy Pocket
1.180
Sony Xperia tipo
1.166
Samsung Galaxy mini 2
1.114
Controls
Since the software has been changed you should expect differences in the controls pattern of the Galaxy S4 Google Play Edition. But these changes are not drastic and you'll hardly ever notice the difference.
Below the display you get the same three keys as on the TouchWiz Galaxy S4 - the capacitive Menu and Back buttons plus a regular Home key.


The usual set of keys sits beneath the display
Upon a long-press of the Home button you'll not be taken to the Task switcher menu but instead Google Now will be launched. In order to get to the Task switcher you need to perform a double-press of the Home button.
The menu key does exactly as advertised and opens on the contextual menu in each app or part of the OS while the back key gets you back to square one.
Above the display we have the earpiece, as well as a bunch of sensors. The traditional ambient light and proximity sensors are joined by an IR gesture sensor, which doesn't really do anything with the stock software. There's also a 2.1 megapixel front-facing camera for video calls and a status LED up there.


It's getting crowded above the screen
The left side of the Samsung Galaxy S4 features the volume rocker, while the power/lock key is on the right - no changes there either.





Once again our shutterkey prayers have been left unanswered
The top of the Galaxy S4 Google Play Edition features the 3.5mm audio jack, the secondary microphone and the IR blaster that allows you to use the smartphone as a remote control for your home appliances. Thankfully, the IR remote control feature is still available even without Samsung's TouchWiz enhancements.



The 3.5mm audio jack Is joined by a microphone and an IR blaster
The microUSB port at the bottom is used for both data connections and charging. Not only does it support USB host but it also comes with support for the new MHL 2.0, enabling 3D 1080p output and TV connections without an external power source just as the regular S4.
The last item to point out at the bottom is the primary microphone pinhole.



The microUSB port is next to the primary microphone
The back of the Samsung Galaxy S4 Google Play Edition is where the 13 megapixel FullHD-capable camera lens is located. Much like on the regular Galaxy S4, the LED flash is right beside it, and the loudspeaker grille is located on the bottom left edge of the device.
Removing the battery cover reveals the microSIM slot, the ample 2600 mAh removable battery and the microSD card slot. The memory card slot is hot-swappable, too.
Our battery test showed that the Samsung Galaxy S4 Google Play Edition doesn't differ drastically from the TouchWiz Galaxy S4. It managed almost the same web browsing battery life at 7:13 hours, then it was almost a perfect match in the video playback department with 12:32 hours and finally, put out a respectable 12:37 hours in our dedicated call test.
Unfortunately, the overall endurance rating for the Galaxy S4 GPE fell from the 69 hours of the I9505 Galaxy S4 down to 63 hours because of the lesser talk-time and stand-by scores. And occasionally we would experience strange battery drain when we left the phone on stand-by overnight.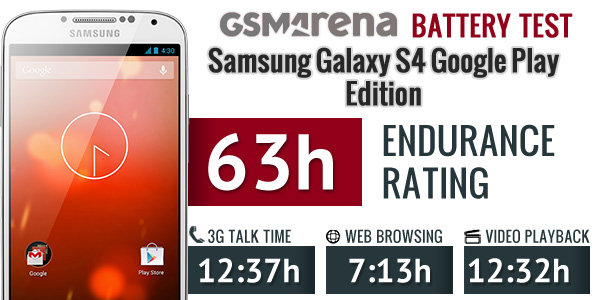 A 63h rating means you can expect the phone to typically last this amount of time on a single charge if you stick to our test regiment of using the phone for an hour of calling, an hour of video watching and an hour of web browsing a day and then leaving it on stand-by during the rest of the time. Of course, your mileage will vary depending on your usage pattern and network environment but still, it's our standardized way of producing comparable results across smartphones by different manufacturers.