Europeans don't need to envy SK Telecom users any more – the Snapdragon 800-powered Samsung I9506 Galaxy S4 with LTE+ (a.k.a. LTE-Advanced) has arrived on the Old Continent (with no fuss or fanfare - just a single press release for Sweden).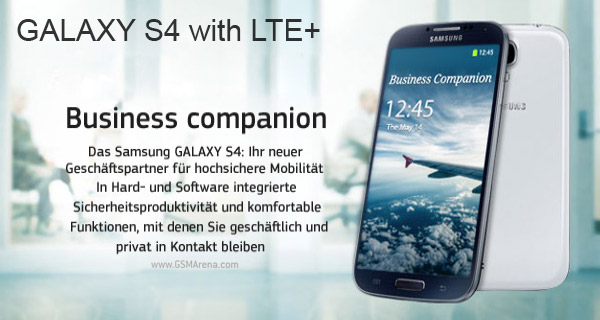 There's no pricing info available, in fact no store in Europe has yet officially announced that it will carry the upgraded device but it showed up on the official Samsung Germany website. The specs page lists the 2.3GHz quad-core chipset and Cat 4 LTE and everything. The rest of the specs are unchanged.
As for color options, only the White Frost / Black Mist are listed with a note saying there might be more color options available depending on the market. The older I9500 / I9505 duo has the following additional colors: Aurora Red (AT&T only), Arctic Blue, Purple Mirage, Brown Autumn, Pink Twilight.
We did find it on international etailer Overseas Electronics for a hefty $950 price tag (the old version is under $600).
By the way, the Samsung Galaxy S4 Active is also rumored to be getting a Snapdragon 800 refresh, but there's nothing official about that yet.
D
Great phone, sadly its still only available in 16GB, its beyond stupid a flagship phone dont even offer 32GB, on paper it says it does but i never seen anything buy S3,S4,S4+ with 32GB yet! And worst part is i only have 9GB free and of course i cant ...
Y
I guess you must be so intelligent not knowing that most users don't root their phones. New variants are released to attract new customers and those would like to have better upgrade than their previous year flagships. Anyway, these for few european ...
?
That kind of talk could've been said about HD recording and larger camera sensros, bigger batteries, smarter phones, faster and more cored cpu's and so on. Don't be so naive and delusional. And it also just so happens that it helps improve the us...
ADVERTISEMENTS