User Interface: hybrid TouchWiz
Oddly enough, Samsung has not graced the beautiful screen of the device with the latest incarnation of its TouchWiz UI. Instead, the company has opted for a modified version of the interface, which has some of the features TouchWiz 4.0, but it still isn't quite there. For example, the task manager of the Infuse 4G is the same as the one found in the Galaxy S2. You don't however, get the same options to personalize the home screen, and gesture controls as found in the dual-core cousin. Our guess is that the new UI might require too much processing power which is why it was saved for the Galaxy S2.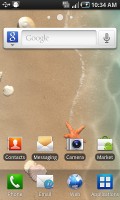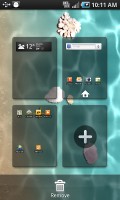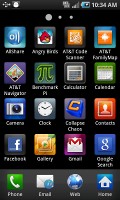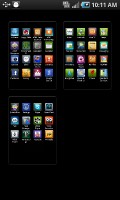 The Samsung Infuse 4G home and menu screens with editing options
The Android version on the Infuse 4G is 2.2 (Froyo). We are certain that an update to Gingerbread will be available in the future for the device, but also disappointed that it is not available for it out of the box.
CPU performance: fine, but not dual-core fine
The ARM Cortex A8 1.2 GHz processor is an overclocked version of the CPU, which we know too well from the line of Galaxy S phones and the Nexus S. Despite the added speed however, the Samsung Infuse 4G is far from being the fastest device out there.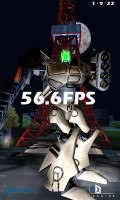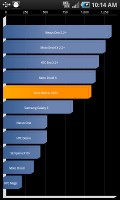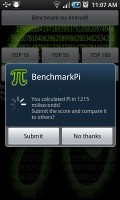 Samsung I997 Infuse 4G benchmark results
With results like that the Infuse 4G will hardly have any trouble with the applications that are currently available for Android. However once developers start using the dual-core powers of the already existing crop of devices the Infuse 4G will lose its 100% compatibility ratio.