Samsung at IFA 2014
IFA 2014: Samsung Galaxy Note 4, Note Edge, Gear VR and Gear S hands-on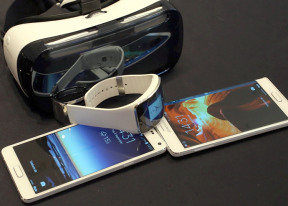 Samsung Gear VR
The Samsung Gear VR is a Note 4 exclusive accessory based on Oculus Rift's hardware. Gear VR is meant to be a peripheral device that works with your phone. Your Note 4 is actually the screen on your Gear VR, as you need to put it in front of the goggle-like accessory.
The Gear VR has various controls including a touchpad, a back key, forward and backward keys. The Gear VR also incorporates an accelerometer, gyro and compass sensors. There is a proximity sensor as well, so the device will know when you remove it from your head and will pause automatically whatever you were playing.
The Gear VR works only with the dedicated VR player in your Galaxy Note 4 and nothing else. The content is very limited for now, but we've played a 360-degree 3D video, and a game flying a plane and shooting with the side key. You need to move your head around all the time, but it's cool. There is no lag between moving your head and moving the picture, the latency is excellent indeed.
While the technology works great, even the Note 4 display isn't always sharp enough. The QHD resolution is halved for the 3D conversion and given that you will be looking at it from just a couple of centimeters away you can spot some pixelization.
By the way, you can look outside too, courtesy of the Note 4's camera.
The Gear VR is made of plastic and is really light, there is even soft foam around the goggle-like front. The rear and top straps though are definitely hairstyle destroyers, so you should have that in mind too.
We've yet to see how cool the Gear VR will turn out as the Gear VR-enabled content starts appearing. For now you will enjoy the available demos, but that's it. And we doubt there will be many 360-degree movies in the upcoming months either.
Samsung Gear VR will launch alongside the Galaxy Note 4.