Samsung at IFA 2014
IFA 2014: Samsung Galaxy Note 4, Note Edge, Gear VR and Gear S hands-on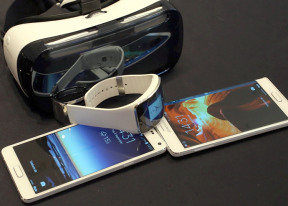 Samsung Gear S
Samsung officially announced the Gear S smartwatch with 3G connectivity a few days ago. The Tizen-based wearable will begin rolling out in markets around the globe starting October.
The Samsung Gear S features a 2" curved Super AMOLED display with a resolution of 480 x 360 pixels. The device is powered by a 1GHz dual-core CPU, coupled with 512MB of RAM. It also comes with a heart-rate monitor mounted on its rear. The smartwatch is IP67 certified for water and dust resistance.
The rest of the device's specs include 4GB of built-in memory, full connectivity suite including quad-band 2G/3G, Bluetooth 4.1, Wi-Fi a/b/g/n, GPS/GLONASS, and USB 2.0. The smartwatch is also capable of making and receiving phone calls through an optional Bluetooth neck accessory dubbed Samsung Gear Circle.
The awesome thing about the Circle headset is it has magnets and you can stick the earbuds together.
The Samsung Gear S looks stylish but we have to be honest - it is huge! Bigger than any other smartwatch we've seen so far, probably because of the additional phone modem and nanoSIM slot.
The good news is Samsung is offering different straps you can choose from - there is one wide as the smartwatch itself, while you can opt for another more compact one. Samsung will be even offering different clasps.





The two different Gear S straps
The Gear S runs on Tizen OS and is controlled by gestures. You get all notifications on the homescreen and tapping on each of them will take you to the appropriate app. Swiping left brings up the widgets, a swipe right pops up all notifications, a downwards swipe brings the shortcut area and an upwards swipe means system-wide Back.
There is a home key on the Gear S. Tap once for the homescreen, tap twice for voice control. The voice interaction is really good and it is the easiest way around for text input. By the way, the Gear S offers an on-screen QWERTY keyboard, which is as optimized as possible, but two inches are just not enough for it.





Gear S in action • the SIM slot
The one thing the Samsung Gear S lacks is a proper web browser. Samsung says it is working on such an app and hopefully it will become available for download eventually.
Samsung Gear S can be used both as a main device and as a companion one. If need be, it can temporarily replace a smartphone if you don't want to carry one around. Samsung expects most people to use its SIM card for call forwarding from their main device.
Samsung has announced it has already partnered with carriers for creating specific plans for the Gear S. Since it won't be used as a main device, the manufacturer wants to be sure the Gear S uses won't have to pay the expensive regular plans.
THe Samsung Gear S and Samsung Gear Circle will launch in October, alongside the Galaxy Note 4 and the Gear VR.