Samsung is officially asking everyone to return their Galaxy Note7 devices, again
Today, all four major carriers have already suspended the sale of the Samsung Galaxy Note7, as yellow-and-blue retailer Best Buy. At that point, Samsung still hadnít acknowledged there was an issue with the Galaxy Note7 replacements.
Samsung has just released a statement urging all global partners to stop sales and recall-exchanges of the Note7 while the company further investigates the most recent reports of batteries flaring up on replacement devices. See the official statement from Samsungís international site below.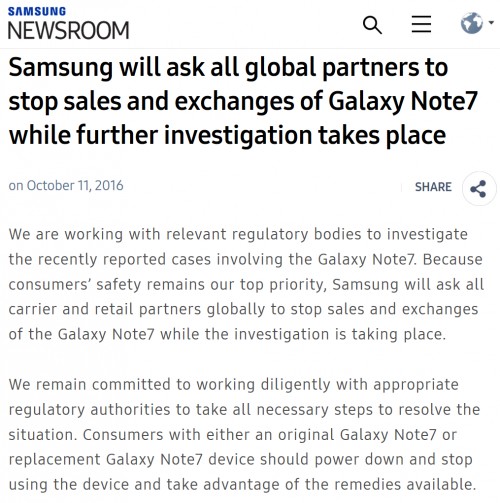 This is a really unfortunate situation for Samsung, likewise the phone maker is sure to lose many loyal customers. And it all stemmed from Samsungís desire to get the Note out before the iPhone 7, rushing to get the manufacturing done, and yet again, when Samsung had to rush to get its replacement devices out to the masses.
Samsung has also updated its recall page with the most recent information regarding where to return your devices.
D
The replacement Notes didn't even change the battery. They just tweaked the software.