Samsung may be struggling to protect the number one spot in the global smartphone market, but the company is second to none in the smartwatch market, according to he latest report from market research firm Statista.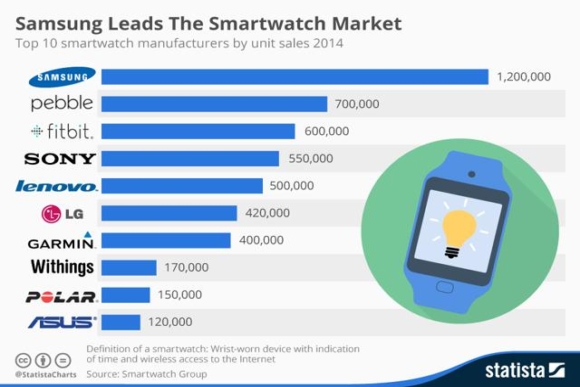 As per the report, the South Korean company sold a total of 1.2 million smartwatches last year, claiming 17.65% market share. Pebble came in at number two with 700,000 shipments, while Fitbit, Sony, and Lenovo rounded up the top five with 600,000, 550,000, and 500,000 shipments, respectively.
The report comes just a day after Apple released details of its Apple Watch at the company's Spring forward event.
Source
|
Via
?
Actually, no. Checkout "Pumpkin King" on disqus. He's a real paid Samsung supporter out there. You can see that he goes on about every tech site, reads every negative Samsung comments and defends its owner.
?
There are just too many Apple paid Samsung-bashers here. It's not even funny.
?
did u just woke up? the article said "sold".
ADVERTISEMENTS