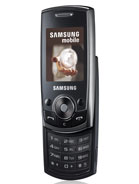 a
Excellent mobile phone.camera is very good,Important thing is that photos directly move to MMC and so your phone memory always remain intact.Thanks to samsung.
?
just got this phone last week excellent mobile great build stainless steel frame and all good camera(note not great) phone for music and overall basic phone usuage.
S
Just got this phone from 4u-what fantastic handset!!

For starters the styling of the phone is beatiful, very slick, slimline & elegant.

Despite the camera only being 1.3mp the picture quality is excellent; as is the video recording.

I am also very impressed with the quality of the MP3 player and radio (when listened to through the earphones)- the sound qaulity is excellent and what you would normally expect from a top-end phone.

It's very easy to use and battery performance is good.

Thank you Samsung - keep up the good work.
Total of 1368 user reviews and opinions for Samsung J700.