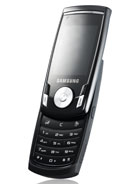 k
Looks great , and NO touch keys : very good
N
I think that samsung have improved their cellphones. Samsung L770 is really cool, it has everything to be a challenge to the anothers companies.
?
Well, its a samsung, right ? And I believe, that all that matters in a samsung cell phone is design. This one is pretty nice. Leave the multimedia for Nokia ;)
Total of 164 user reviews and opinions for Samsung L770.