Samsung launches Galaxy TabPro S Gold Edition with 8GB of RAM and 256GB SSD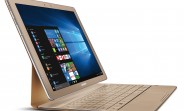 Remember the Samsung Galaxy TabPro S? Unlike most Galaxy-branded devices, this runs Windows 10, and not Android. It was unveiled at CES in January, and has been on sale for many months now. And today the Korean company has decided it's time to refresh it somewhat, by applying a new coat of paint and upping some specs.
It's called Galaxy TabPro S Gold Edition - so can you guess what color it is? The blinged up model comes with 8GB of RAM and a 256GB SSD.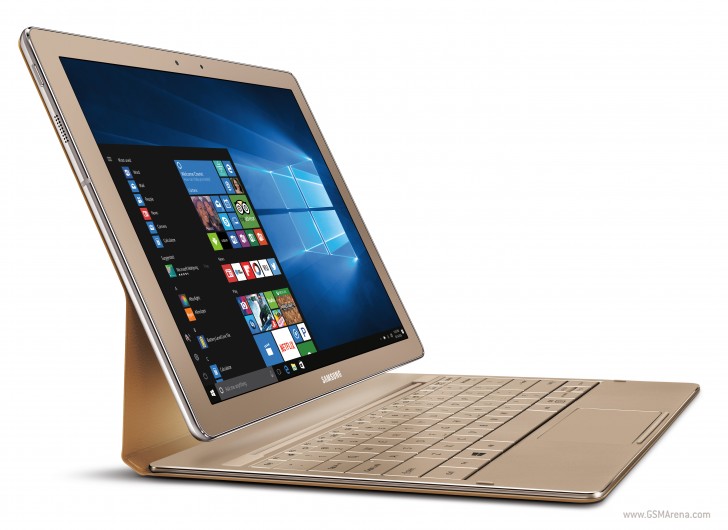 Other specs haven't changed, so you still get the same 12-inch 2,160x1,440 Super AMOLED display, 2.2 GHz Intel Core M3 processor, Wi-Fi, Bluetooth, a USB Type-C port, a pair of 5 MP cameras (one on the front, one on the back), as well as the 5,200 mAh battery. This is rated at over 10 hours of video playback.
The new gold TabPro S is priced at $999.99, while the older model with 4GB of RAM and 128GB of storage (and no gold) now goes for $799.99, $100 less than before. The gold variant will become available later today at Samsung's online store and Best Buy.
?
Go for it. They'll be useless and you'll have to buy peripherals to do basic functions that Calvin Klein underwear could do 50 years ago. Tired of your iUndies falling down all the time? Then buy our new iElastic for only £29.99! And for added ...
D
iPad and Galaxy TabPro S are good devices, but they're - underpowered. Vaio Z Canvas is the answer.