IDC has released its preliminary numbers for smartphone shipments and market share for the second quarter of this year and they tell a familiar story near the top - Samsung leads and Apple is in second.
Looking at the breakdown reveals a more subtle story here. Samsung is still the leader in smartphone shipments but for the first time in a while the company has recorded a decline. Samsung has shipped 74.3 million units and commands a 25.2% market share. Compared year over year that's 3 million units less and a drop of 7.1 percentage points in market share.
Apple is on the opposite side, shipments-wise, with a total of 35.1 million units - almost 4 million more than in Q2 of last year - but has seen its market share fall from 13.0% of last year to 11.9% this year.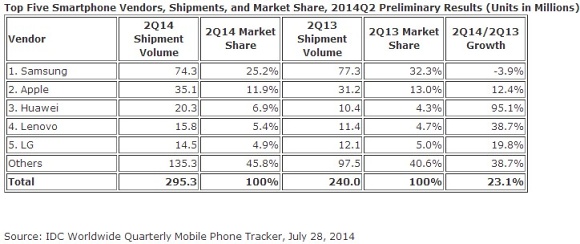 IDC attributes the dip in numbers for Samsung and Apple to a strong surge from Chinese manufacturers Huawei and Lenovo. Huawei has shipped almost twice as many smartphones at 20.3 and seen its market share for the quarter rise to almost 7%. Lenovo has shipped 15.8 million units - up from the 11.4 million of a year ago.
LG has also ended the quarter on a high note with 14.5 million units - up 2.4 million over last year.
As for the quarter in general the numbers are positive. Smartphone shipments have risen 23.1% - 295.3 million total shipped smartphones compared to the 240 million of Q2 2013.
As these are preliminary numbers they can succumb to change once some of the companies release their detailed reports.
R
Honestly, you never make a good businessman. I guess you may not understand other costs that are involved (e.g. operating cost, marketing and etc) for the manufacturers. You don't realise that Xiaomi had to do a lot of cost cutting measures to ...
E
Hopefully, lg will still in top 10 two years from. However, it does not look good. What lg need to do is to sell the phone division while it is still worth something. Hurry up.
d
Are you getting paid by Samsung ?