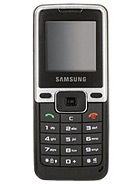 c
Al, 25 Dec 2008Can someone help me find the software and Data cable for the Samsung M130 please write to coc... moreWe have both software($10) and data cable($10) @ e wireless usa
5410 NW 72 AVE
MIAMI, FL 33166
305)888-2882 FAX 305)888-8383
A
Can someone help me find the software and Data cable for the Samsung M130 please write to coclish@yahoo.com
g
is it really quad-band GSM,,???? i wonder its cheap phone w/ quadband GSM,,pse ur kindly reply,,txs
k
i like this because i barrow this phone to my sisters and i like it just buy it so much



?
New phones like these are always wellcome but this one is kind of ugly... I wonder it is rugged (is a M class right?)
?
some people on this website clearly have no life.

anyway, time to post something useful! I think Samsung have already done enough phones like this. You can only take so many simple bar phones with VGA cameras.
Total of 10 user reviews and opinions for Samsung M130.