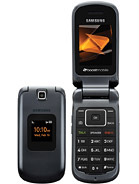 i
Samsung please please make another Samsung e770! Im still using it til this day on and its still my favourite phone
S
I too was a fan of Samsungs old shell style phones back in the days. Many people in Europe dislike this design as opposed to Asia. Many men found it gay because it's like a woman makeup thingy(lol! don't know the english word for it.)
?
Please Samsung...make a new phone in the tradition of G800/G400. You're way too drown with Android.
A
What is this? I think samsung have gone out of mind or may be trying to bring back the year passsed by... It would be rather good if they would have reinvented or recreated THE SAMSUNG I8520 BEAM with a better function and facilities..
Total of 13 user reviews and opinions for Samsung M260 Factor.