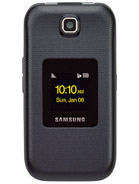 D
Great little phone. Long stand-by and real long talk-time as well. Am pleased as it is durable as well since I drop things alot. It was a bit pricey, but was purchased to replace a touch-screen phone that had way.....too many problems with getting confused as to what button you were touching and that was a real pain in the backside. I have grown to like the simple and easy to use interfaces on the phone. Only drawback is the viewing screen is a bit small.
?
Jesus Christ! For the short year or so using this phone, it was nice. Basics. If I had to say one thing it provided the basics of just telephone and text clearly. The only reason I do not use it anymore is it is too expensive. Anyways, LORD, I wish the rest of my life is a happy, safe, perfect, etc. Amen. Thank God.
Total of 11 user reviews and opinions for Samsung M370.