This article is outdated. We have already published a full review.
Camera is really nice
The Samsung M7600 Beat DJ features a nice 3 megapixel autofocus camera. In addition to it there is a LED flash helping in low-light conditions and recording night videos. Unfortunately, as with most LED flashes, its range is hardly more than a meter or two.
The Beat DJ is capable of taking photos with a maximum resolution of 2048 x 1536 pixels. The videos recorded by the M7600 went up to VGA resolution at 20 fps (15fps according to the official specs), which barely qualifies as nice so we expect that to be fixed on the retail unit.
The actual pictures taken with the camera are a nice surprise – very good detail and colors. The noise reduction is a bit aggressive at times, but no biggie. Image processing however is certain to go under more changes.
The overall image quality is quite good and we are happy with all shots. You can take a look the full-size samples below.
The camera interface is nicely touch-optimized and is certainly one of the most comfortable camera interfaces on a touchscreen device we've seen recently.
Nice web browser
The M7600 beat DJ web browser is similar to those used in Pixon or S8300. It has zooming and full-screen options, plus the landscape view.
The web browser is nicely touch optimized and offers auto screen rotation. Hyperlinks require two clicks, just like with the Symbian S60 5th Edition web browser.
The browser managed perfectly most pages we threw at it and even succeed in loading some simple Flash banners. Unfortunately, you will not be able to play YouTube video with it beside the lower quality mobile version found at m.youtube.com.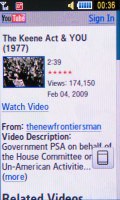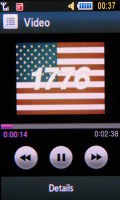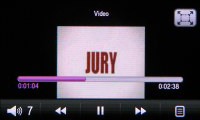 The mobile version of YouTube: streaming a video
First impressions
With a distinct design and a unique key feature, the Samsung M7600 Beat DJ sure knows how to make a first impression. But what's best, the first attempt is by no means undercooked or superficial. The BeatDJ is of course the right kind of bait for the right target audience but it's nonetheless well made and focused.
The OLED touchscreen display is really cool and should certainly be counted as one of the key selling points of the phone.
The other key feature, of course, is the enhanced music capabilities. BeatDJ gives you a host of options for remixing and tweaking your favorite tracks and why not even share them with your friends.
The nice 3 megapixel camera has really nice image quality even at this pre-release stage. Combined with the geo-tagging option thanks to the built-in GPS, the Beat DJ will cater for the most common imaging necessities.
We are looking forward to see a final unit, because Samsung M7600 Beat DJ promises solid amount of fun. It seems to have got the balance quite right and the music bar quite high.